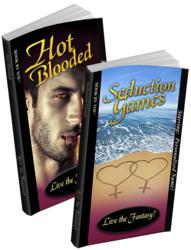 Show your true colors with personalized same-sex romance novels!
London, ON (PRWEB) May 31, 2012
Book By You offers a unique opportunity for same-sex couples to star in and co-author a personalized romance novel with customized names, features and up to 26 characteristics in a 200 page novel. Book By You, Publisher, Mike Pocock commented, "Why read between the lines when couples can read between the sheets? Celebrate gay pride this month with a one-of-a-kind gift."
Love knows no boundaries, distance nor time, nor does it discriminate against color or sexual preference. Book By You celebrates life, love and the pursuit of happiness in Hot Blooded, an intoxicating tale of a chance meeting between two men, one a university professor and the other an immortal exotic stranger. A must read for fantasy vampire lovers and fans of True Blood and the new Johnny Depp movie, Dark Shadows. And for the women, Seduction Games enables our female heroines to join the adventure and be swept away to a lush tropical island and become contestants on a the reality TV show TreasureQuest. Sparks fly between these two competitive women but love wins out in the end.
Here is what one happy Book By You customer said, "I knew this would make an appropriate gift for both me and my wonderful wife on our 1st anniversary, and I was so right! The story was funny and sexy and surprised us by how romantic and moving the relationship was. I'm thrilled to finally get one of these beautiful BBY books just for us." - Bree F., DE
To purchase personalized books, readers go to the Book By You® website at BookByYou.com and complete a character questionnaire specifying the information to be included in a book. The company offers a free demonstration area where readers can preview personalized excerpts from any of the company's classic, teen, romance, mystery or children's novels. Media interviews and promo images are available upon request.
###