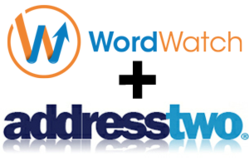 San Jose, CA (PRWEB) May 31, 2012
Pay per click management startup, WordWatch, has now entered its first partnership with a customer relationship management software. Released in June of 2008, Address Two has grown to over 5,000 users around the world.
"We see a very natural fit between WordWatch and CRM providers. While not necessarily related, it's very common for marketers to use a CRM to keep track of the sales leads they get and pay per click advertising to help drive new leads to their website. With that in mind, we feel that Address Two and WordWatch can really benefit from each other," Chris Bauman, VP of business development at WordWatch said.
Address Two, like WordWatch is noted for being an afforded solution for any range of enterprise, with a variety of options, allowing the user to tailor a plan to their specific needs.
About WordWatch:
Founded in 2009, WordWatch is an online AdWords bid management application designed for small business advertisers, marketing consultants and freelancers, and small agencies. The application simplifies the daily management of keyword bids and constantly optimizes a customer's AdWords account. WordWatch has offices in San Jose, Amsterdam and Krakow.
Related Links
http://www.wordwatch.com
http://www.addresstwo.com