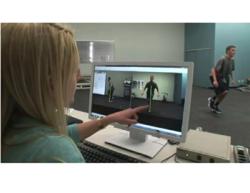 If you are an athlete, you need to be here.
Carlsbad, CA (PRWEB) May 31, 2012
The DPT Sports Performance Center in Carlsbad, which opened in February 2012, has been providing end-to-end solutions for athletes of all ages and patients with problems that are difficult to fix. Its state-of-the-art gait and biomechanics lab, which make it a 'center of excellence' opened on May 1, 2012. "It is a new day in physical therapy treatment and orthopaedics. Static pictures and images often cannot determine why an athlete has pain or is performing poorly," according to Dr. Nicole Konrath, physical therapist and owner of Movement Performance San Diego at the DPT Sports Performance Center. Dr. Konrath often uses technology, such as high-speed motion cameras, joint sensors, electromyography, a force plate, computerized strength and endurance testing equipment, and a motion analysis treadmill to diagnose movement dysfunction not captured by typical orthopaedic examination. Dr. Robert Snow, physical therapist and partner at Doctors of Physical Therapy states, "Injections, surgery, and drugs are not always the answer, but are often thrown at orthopaedic problems that are poorly understood. Fortunately, thanks to the latest research and technology, we are changing our understanding and treatment of many common orthopaedic injuries."
Following evaluation by a doctor of physical therapy, patients are taught to correct their problems, often with the use of immediate visual or computerized, video data. After treatment and before returning to sport or high-level activity, patients are screened rigorously with a 'Return to Sport Examination' in the biomechanics lab. Dr. Konrath points out, "The Return to Sport Exam is crucial for every athlete to prevent injury recurrence, especially following surgeries, such as ACL reconstruction, where the risk of re-injury is unacceptably high."
When athletes are released for return to play, many choose to begin elite performance training at the DPT Sports Performance Center with Velocity 2.0. Athletes improve their power, strength, endurance, speed, and coordination under the watchful eye of Charles Dimry, a former San Diego Charger, and his talented staff of strength and conditioning coaches at Velocity 2.0. According to Dimry, "After our experts teache athletes how their body works and how to move, we can really push them to the limit and maximize their performance without risking injury. If you are an athlete, this is where you need to be."