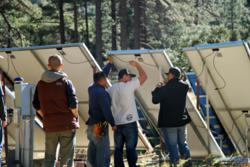 the stars align and we can do something that really makes an impact
Murrieta, CA (PRWEB) May 31, 2012
After Ambassador Energy's president, Kelly Smith, emailed the center regarding her upcoming visit, the monk in charge of the facility contacted her for assistance on their solar project.
"I was just going to see the center and hang out for the day, as the center is just 45 minutes from our Ambassador Energy office. When I got there, I felt like I was worlds away. It is a very serene, rural and spiritual place. I wasn't surprised to learn that they were on solar, as remote facilities often choose to be off-grid instead of running expensive power lines and transformers to the site from the grid. When people build in super-rural areas, it is often more cost-effective to be energy self-sufficient, even when adding the cost of battery back-up and/or generator," Smith said.
"I was pleasantly surprised to be able to mix business with pleasure that day. The fun part was touring the power generation site. It was a real hodge-podge of legacy equipment, some dating back decades. Luckily, we have off-grid specialists on staff and could address the center's needs. We wanted to help them solve the real logistical problem of not having enough energy to effectively run the place."
Ambassador Energy's management team demonstrated their commitment to the project by deploying their off-grid solar team, who took on the complex task of designing an upgrade around the existing plethora of solar PV equipment, and doing it on a tight budget. "The center," said Smith, "is non-profit and every dollar is carefully raised and spent. We wanted to make this a mutually rewarding project for all involved."
"Since Yokoji-Zen Mountain Center worked hard to raise the necessary funds for the equipment," said Catherine Kelso, Ambassador Energy College's Director of Training. "We decided to get creative on the labor end of it. So, we made it a philanthropic and training event by enlisting students from a local college's electrical program. We were able to do the job on a shoestring, so that we could give the center as much power for their dollar as possible."
"We can't always do pro bono work," concluded Smith. "However, every once in a while, the stars align and we can do something that really makes an impact without worrying about profit. I feel really good about this installation. It was meaningful on so many levels, as we were able to help a non-profit group and the environment, while providing students some real-life extraordinary work experience."
About Ambassador Energy
Ambassador Energy [AE] has a three-pronged business model, including Ambassador Energy College Solar Training, the Ambassador Energy Agency Program and Ambassador Energy, an EPC contractor. On staff are NABCEP Certified PV Installers, NABCEP Certified PV Technical Sales professionals [Fulgham/Kelso] and multiple NABCEP EL graduates. AE Agencies are nationwide. Ambassador Energy EPC installs PV systems throughout California.
About Yokoji-Zen Mountain Center
Yokoji-Zen Mountain Center is a Zen Buddhist training center in the San Jacinto foothills, California, offering year-round training for both residents and non-residents, monks and lay people. The Abbot of YZMC is Charles Tenshin Fletcher Roshi.