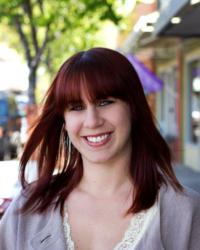 I'm totally pumped to be sharing the stage with several incredible search marketers at SMX Advanced this year!
San Diego, California (PRWEB) May 31, 2012
Thunder SEO, an online marketing agency in San Diego, California, announces their Director of Content Marketing, Monique Pouget, has been selected to speak at the Search Marketing Expo SMX Advanced Seattle 2012 conference. The topic Pouget will be speaking on is "Hardcore Social Tactics".
The "Hardcore Social Tactics" panel will take place on the first day of SMX Advanced. The panel will be moderated by Greg Finn, Chief Marketing Officer of Cypress North. Other speakers in the panel will include: Vince Blackham, Director of Social Media at 97th Floor, Brent Csutoras, Social Media Consultant at Kairay Media, and Marty Weintraub, CEO of aimClear. The speakers will discuss hard-core tactics for a successful social media campaign, including how to build buzz, grow an audience, and drive traffic to your website with your social media efforts. The speakers will explore tactics for the larger networks like Facebook and Twitter as well as the up-and-comers like Reddit and Pinterest.
"Monique brings a wealth of knowledge, facts and actionable tips to SMX Advanced 2012," said Finn. "She will be a must-see for attendees of SMX as she will share truly valuable tactics and strategies as an integral member of the Hardcore Social Tactics panel."
"I'm totally pumped to be sharing the stage with several incredible search marketers at SMX Advanced this year," said Pouget. "Everyone is bringing some solid social strategies to the table, and I'm already looking forward to testing their cutting edge tricks and tactics upon my return."
SMX Advanced will take place in Seattle, Washington, June 5-6, 2012 at the Bell Harbor International Conference Center. This is the only search marketing conference geared exclusively for experienced internet marketers and has sold out each of the five years since it started in 2007. Google's own Matt Cutts will be Keynoting SMX Advanced 2012.
Boilerplate: Founded in 2007 in San Diego, CA, Thunder SEO supports clients with innovative and results-driven online marketing solutions integrating social media, content optimization and promotion, link building strategies and implementation, local search and mobile marketing, online promotions and sweepstakes, public relations and online reputation management. Thunder SEO is located at 2920 North Park Way, San Diego, CA 92104. For more information on Thunder SEO, call (619) 618-2396 or visit them online at http://www.thunderseo.com/.