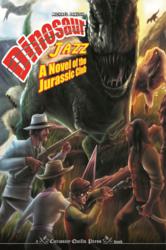 Dinosaur Jazz brings ferocious, man-eating dinosaurs, savage Ape Man tribes, Jazz Age gangsters, zeppelins, pirates, and strange ruins from a lost civilization to Young Adult readers everywhere.
Sacramento, CA (PRWEB) May 30, 2012
Michael Panush has been a central figure in Curiosity Quills Press' stable of authors since shortly after its inception. The Stein & Candle Detective Agency series is a flash back to classic 1920s literature, both in its 'pulp fiction' style and its popularity as free, serialized fiction on the publisher's website before being released as a fully-fledged novel.
June 13th sees this promising young author add another series to the Curiosity Quills Press portfolio with Dinosaur Jazz (The Jurassic Club, Vol. 1). Our hero is Sir Edwin Crowe, son of one of the world's last Gentleman Adventurers. Walking in the footsteps of his Victorian explorer father - the man who discovered the prehistoric paradise known as Acheron Island - it's up to Crowe to protect these prehistoric lands from the dastardly American industrialist, Selwyn Slade, and his nefarious schemes.
Known for their ambitious genre blends and quirky sci-fi, Curiosity Quills Press defies convention yet again. Readers can expect a blend of alternate history, steampunk, and adventure noir. Lovers of Panush's pulpy writing style will find that familiar tone once more, this time painting a very new world - filled with ferocious, man-eating dinosaurs, savage Ape Man tribes, Jazz Age gangsters, zeppelins, pirates, and strange ruins from a lost civilization.
"I've always loved pulp stories about lost worlds and prehistoric adventure and this is my chance to create one with modern sensibilities," says author Michael Panush. "Dinosaur Jazz is something I've been working on for some time -- researching and fleshing out the world of Acheron Island, preparing the story and then carefully refining it. There are many stories of the Jurassic Club and I hope that Dinosaur Jazz is the first of many!"
Marketing director Lisa Gus had this to say:
"Michael is an amazing author and, ever since we first read The Stein & Candle Detective Agency, we knew he would have a long career here at Curiosity Quills. We are delighted to publish our first steampunk-inspired title aimed at the young adult crowd, especially after the enthusiastic response to Mr. Panush's previous titles."
Dinosaur Jazz will be released in print and on all major eBook devices on the 13th of June.
About Michael Panush:
Twenty-Two years old, Michael Panush has distinguished himself as one of Sacramento's most promising young writers. Michael has published numerous short stories in a variety of e-zines including: AuroraWolf, Demon Minds, Fantastic Horror, Dark Fire Fiction, Aphelion, Horrorbound, Fantasy Gazetteer, Demonic Tome, Tiny Globule, and Defenestration.
Michael Panush is the author of Clark Reeper Tales, his first novel. Michael began telling stories when he was only nine years old. He won first place in the Sacramento Storyteller's Guild "Liar's Contest" in 2002 and was a finalist in the National Youth Storytelling Olympics in 2003. In 2005, Michael's short story entitled, Adventures in Algebra, won first place in the annual MISFITS Writing Contest.
In 2007, Michael was selected as a California Art's Scholar and attended the Innerspark Summer Writing Program at the CalArts Institute. He graduated from John F. Kennedy High School in 2008 and now attends UC Santa Cruz.
About Curiosity Quills Press:
Curiosity Quills Press (http://curiosityquills.com), launched in June, 2011 by writers, for writers, out of a common frustration with the state of publishing today. Instead of relying on readers to sift through the so-called "Amazon slush-pile," CQ presents a uniformly top-notch level of quality, tastefully curated, hard-hitting storylines, and memorable characters readers won't forget amidst their Kindle downloading sprees.
We know it's hard to stand out from the crowd when it's millions large, but Curiosity Quills Press helps level the playing field through its members' innovative social media approach, a transparent culture, and a deeply passionate team.