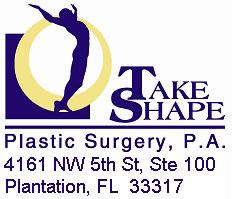 Surgi-Heal therapeutic laser is an ideal solution to provide minimal downtime and a quicker recovery for these patients.
Fort Lauderdale, FL (PRWEB) May 31, 2012
Dr Russell F Sassani of Take Shape Plastic Surgery PA and Take Shape Surgery Center, LLC in Plantation, Florida has started offering his facial fat grafting and stem cell face-lift patients postoperative treatments with the Surgi-Heal Therapeutic Laser.
When first introduced to the laser for potential use in his breast augmentation and tummy tuck patients, he thought it would be an ideal modality to help the subset of his patients undergoing facial fat grafting. They ordinarily would be subjected to a protracted recovery because of significant swelling and bruising. Dr. Sassani states that the "Surgi-heal Post Surgical Therapeutic Laser Therapy is ideal" for his facial fat grafting patients because it rapidly helps decrease pain, swelling and bruising from this and other post-surgical procedures he offers. It's also very effective at decreasing or preventing scar formation (including keloid formation). The therapeutic laser is "bio-stimulatory," meaning that it speeds up the body's natural process of healing. It's able to do this by dramatically increasing the production of the body's primary fuel for our cells thus allowing them to regenerate at a much faster rate. The therapeutic laser quickly and effectively inhibits inflammation in the body leading to quicker healing with less swelling and pain.
The number of treatments necessary depends on the type of surgery, and whether treatment is for pain or scar reduction. In general, it takes 2-5 treatments to eliminate pain and swelling and approximately 12 to 15 treatments to expedite incision healing and decrease the likelihood of scarring. Dr. Sassani has observed a significant decrease in the swelling and bruising of his facial fat grafting patients after just 3 treatments. This decrease in swelling and bruising greatly reduces the patient's time out of the "public eye" after their grafting procedure. In general, the usual scenario without the laser treatments is a minimum of 3 weeks of downtime during which the patient typically looks like a "monster." The use of the therapeutic laser has made this very beneficial facial procedure more palatable to the patient who does not want others to know they have had the procedure.
Another advantage of the Surgi-Heal Laser is that it is an "in-home" service, so they come to the patient. The first few days postoperatively are crucial for pain control and to maximize healing. By creating a network of home-care providers, the Surgi-Heal team is able to provide treatment during these early critical days, while making it convenient for the patient. This is especially beneficial to the patient who wants to recuperate quietly at home and also wants to limit public appearances after surgery. For this reason the physician and/or the patient must contact the Surgi-Heal team before the surgery, so they can arrange treatment as soon as the patient returns home.
For patients concerned about the pain with the laser treatments, John Cottrell of Surgi-Heal says "many patients report that they don't feel anything at all during their laser treatment. A therapeutic laser is not the same painful laser used in laser hair removal or skin rejuvenation procedures." He went on to say, "our lasers don't cause pain, they make pain go away." Cotrell also went on to say that "in addition to fat grafting patients, other kinds of post surgical patients can also be treated. We have found that just about any type of postoperative surgical incision can be treated." A few examples of the more common conditions include: C-sections, hysterectomy, episiotomy, tummy tuck, breast augmentation and breast reduction, bowel surgery, hip and knee replacement and shoulder surgery. In regard to scars from a previous surgery, John says, "unfortunately, once a scar has already formed, it cannot be eliminated with the therapeutic laser utilized. The best chance for the best scar occurs with early intervention."
Dr Sassani states that "for the patient who has contemplated full facial fat grafting with concentrated stem cells or any other cosmetic facial procedure but has been afraid to proceed because of a protracted recovery with significant swelling and bruising, Surgi-Heal therapeutic laser is an ideal solution to provide minimal downtime and a quicker recovery for these patients."