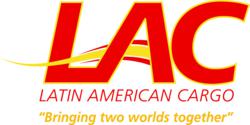 This Business Development team provides support, guidance, expertise, and specialization to a client to help their Latin American ventures.
Staten Island, NY (PRWEB) May 31, 2012
A rising trend for companies in virtually every industry now is to link services. This can mean both great savings for companies and customers alike. One example can be seen by a Business Development team being introduced to the services offered by a company shipping to Latin America.
Linking services means to broaden the scope of what a company does to include other related services. By providing more services to existing customers, companies can benefit from more cost effective ways of doing what they do.
One innovative use of linking services can be seen in the Business Development team of Latin American Cargo (LAC). Specializing in shipping to Latin American, LAC has been working on providing more useful services to their clients. It was a natural step for them to look into guiding and supporting their business clients given LAC's specialization in Latin America and their deep knowledge of import and export markets. Request a quote online if you're interested in seeing how linking services improved their bottom line.
This Business Development team provides support, guidance, expertise, and specialization to a client to help their Latin American ventures. This includes identifying and analyzing the market, developing a potential clientele base, promoting interest in the product or services, translation, negotiation, and aiding in travel details.
These services allow businesses to rely on a company they already know and trust to establish or expand their company in countries like Peru, Brazil, Mexico, and Chile. Additionally, linking a management aspect with logistics makes fundamental sense, allowing the information of the location, market, customs on imports or exports, and routes to help advise business decisions.
The greatest edge of Latin American Cargo was linking two services that seem very separate: logistics and transport, and Business Development. Usually companies link very obvious services like TV, telephones, and internet, and copy only what has already been established as normal and possible. Thinking outside of the box has been an excellent move by LAC, allowing them to benefit old clients and by enticing new clients to look into shipping to Latin America.
More and more companies are going to be looking to copy innovations like the business development service of LAC. Not many companies have the creativity or will to go through with a daring plan, preferring to stick to old methods and because of this they end up falling behind.
Dynamic and innovative companies are hard to find, but this company shipping to Latin America has opened doors for other businesses to see what else can be done to benefit customers more than ever before.
About Latin American Cargo
Latin American Cargo (LAC) is a shipping and freighting company specializing in shipments going to and from different areas in Latin America. They are experienced with air, sea and ground transport. Their Mexfreight division, short for Mexico Freight, handles almost exclusively the transport to and from Mexico and acts primarily as a road transportation service. LAC has recently launched an informative video series and has introduced a business consulting branch designed to help clients develop strategic goals and execute them.