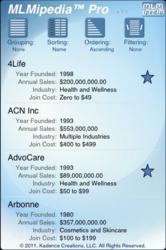 Network marketing companies offer people a huge opportunity to start their own business.
Austin, Texas (PRWEB) May 31, 2012
People from all walks of life are jumping into the entrepreneurial world. More and more people are tired of working for someone else and tired of being an employee their whole lives. They now want to be their own boss and gain more control over their lives. There are three main ways to do this in the business startup world: buy a franchise, start your own business, or join a network marketing company.
Starting a new business is popular for new entrepreneurs; however the time, money and risk associated with it are major hurdles. Nine out of 10 small businesses fail and there is little to no support when it comes to training, design, marketing, etc. You are on your own. Franchises are popular mainly because of their name recognition and built-in marketing. Unfortunately entry into franchising comes with a high investment, and only about one-third are profitable. The third way is to join an MLM and utilize their proven methods and training to become successful, and MLMipedia Pro can help someone make that decision.
The amount of money needed to build a network marketing business is a fraction of the cost for a small business or franchise. There are no assets needed, no training needed, and no history of business ownership needed. And there are numerous products and services to sell, numerous ways to get paid and various entry levels to choose from.
MLM companies also offer the necessary training to be successful via local groups and/or online training, so there is no need to travel to a corporate office. The training they offer is easy to learn and easy to duplicate, which will benefit people while they grow their business. MLM companies also have the name recognition that franchises do. More and more of them are a household name which allows someone to start an MLM that is known world wide. MLMipedia Pro provides the necessary information needed to choose from these companies.
Network marketing companies offer people a huge opportunity to start their own business and MLMipedia Pro will help narrow down the choices in an easy to use manner. This iPhone app allows the user to make an educated decision based on the information provided. With the hundreds of MLMs available to choose from, this is an unbiased tool to help narrow down the field.