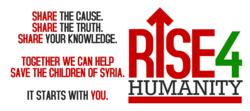 "with the goals of safely bringing humanitarian and medical corridors to the children of Syria"
Newport Beach, CA (PRWEB) May 31, 2012
Syria's honorary consul general, Dr. Hazem Chehabi, living in Southern California has resigned from his voluntary position today after 18 years and publicly defected on NPR's Morning Edition with Renee Montagne this morning saying, "…[T]he recent barbaric massacre that took place in the town of Houla …was a tipping point …beyond which one could not justify remaining silent or remaining in a position that may be perceived, correctly or incorrectly, as having ties to the Syrian government."
Chehabi's resignation followed after the U.S. expelled Syria's top U.S. diplomat, Zuheir Jabbour, yesterday, May 29. The expulsion joined by over a dozen other countries is a coordinated protest of the massacre that took place in the Syrian town of Houla, Friday, May 25, where a reported 108 people, including women and children, were killed by Syria's government forces led by President Bashar al-Assad.
Chehabi and al-Assad have personal ties knowing each other from childhood. When responding to Montagne on his opinion regarding the actions of the Syrian president, Chehabi said, "I'm not really sure I can make sense of what is taking place in Syria. The president has to be responsible for the action of his own government and either you're committing those atrocities and, therefore, you're guilty, or you're not preventing them from happening. The buck has to stop somewhere and to me the buck stops all the way at the top."
Chehabi is the first diplomat to defect from the Syrian regime and is anticipated by supporters to help trigger more defections from more Syrian diplomats and officials. Pressure from the community to defect began in March with students at University of California, Irvine demanding that Chehabi be removed from the post of chair at the UC Irvine Foundation arguing a conflict of interest between the values of the foundation and the actions of the Syrian government, represented by Chehabi as honorary consul. Pressure continued joined by the Syrian American community in California, the Syrian American Council and with humanitarian organization, Rise4Humanity, a Southern California based organization working to raise awareness of the atrocities in Syria to help bring aid to Syrian children.
Before Chehabi's announcement today, Rise4Humanity engaged its Facebook and Twitter followers on the subject with the latest facebook post yesterday, "A Syrian senior diplomat in Newport Beach, California is still on top of his job implementing the Assad murdering regime agenda. Contact your elected officials immediately at http://www.rise4humanity.org/action/contact/ and demand his immediate expulsion."
Rise4Humanity was founded in March 2012 in Southern California working to raise awareness of the violence against children around the world, starting with the atrocities in Syria, with the goals of safely bringing humanitarian and medical corridors to the children of Syria and seeing the indictment of the murderers by the International Criminal Court. For more information on Rise4Humanity, please visit http://www.rise4humanity.org