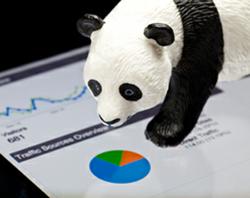 When it comes to search optimization for long-standing sites, content scraping and attribution can be a big problem.
(PRWEB) May 31, 2012
CanadaOne.com®, a small publisher specializing in how-to Canadian business content, will reveal how its website was penalized by Google's Panda algorithm and share the methods the site plans to use to recover from the penalty at the start of the SES TO conference to be held in Toronto from June 11 – 13, 2012.
As an online publication, search engine position has been critical to CanadaOne's ability to reach small business owners across Canada with its in-depth, how-to business articles on topics that range from starting a business to accounting, human resources and leadership.
After seeing a drop in traffic to some of the site's key content, CanadaOne.com® hired SEO experts, Terry Van Horne and David Harry partners in Reliable SEO, to do a complete audit and pinpoint the traffic problems.
"We have always taken a 'white hat' approach to search engine optimization (SEO), so we were very surprised when our website was penalized by the Panda," said Julie King, co-founder and editor of CanadaOne®.
"Since we already have a very strong foundation in SEO, we needed to find an SEO company that could do a much deeper analysis. We selected Van Horne's company after having connected with him at the SES Toronto search conference in 2011," said King.
"CanadaOne has been around a long time. I remember email exchanges with Julie early in my career," said Van Horne. "I was surprised a site of this quality and authority was being affected negatively by a filter/dampener that targets thin content."
As an advocate for smaller companies that often cannot afford to weave their way through complexities like search optimization, CanadaOne.com® has decided to transparently share its experiences as well as the steps it will take to recover. For example, the audit revealed that the site was hit by the Panda updates, but not the more recent Penguin algorithm changes.
On June 11, 2012 at the start of the SES Toronto conference on search engine strategies, CanadaOne® will reveal an outline of the report generated by Van Horne's firm.
"We have decided to turn a negative into a positive," said King. "If we can have a solid understanding of SEO and produce over 900 high-quality articles on how to start, run and grow a business in Canada and be penalized, then the risk to other small publishers and websites is very high. The least we can do is stick with our tradition of sharing emerging knowledge about how to build stronger businesses."
CanadaOne.com® was launched on March 3, 1998 and has survived many fluctuations, including the "dot.com" meltdown of early 2000. When the site launched it received less than 50 visitors a month, yet was able to grows its traffic to a peak of 796,000 unique visitors in 2010 by providing excellent content and using content-focused search optimization techniques.
Some of the challenges that will be revealed on June 11 include issues related to attribution, where websites that "scrape" – or in essence steal – content from CanadaOne® now outrank the original source.
"When it comes to search optimization for long-standing sites, content scraping and attribution can be a big problem." said King.
"An article on something like a business' unique selling proposition written ten years ago is still valid content today," said King, "We want to avoid games like republishing good quality content under new links and titles and redirecting the old links to the new source, but that may not be possible as long as low quality scrapers are able to outrank us for our own material."
"One of the early findings in the CanadaOne project was that it indicated even though there were attribution issues with scrapers CanadaOne was not being affected negatively," said Van Horne. "However, unlike press releases the CanadaOne pages do not include a lot of links back to CanadaOne in the content. That was a relief as the attribution issues will be ironed out when we begin adding in the changes suggested for the site."
Another concern that will be revealed is the trend towards negative SEO.
"Negative SEO has become a larger object on a good SEO's radar because some of the recent updates have further enabled inbound links to affect a site's rankings negatively," said Van Horne.
CanadaOne® is also reaching out to other legitimate small publishers that have been impacted by Panda, Penguin or other algorithm changes to invite them to share their experiences.
"The business world now works on seconds, not weeks or months as it once did," said King. "Collaboration is key to success and we would like to invite other publishers to add to the conversation and help others see how they too can recover from unwarranted search penalties."
Businesses that have been affected can contact CanadaOne® through Twitter (@canadaone) or by emailing editor[at]canadaone[dot]com.
Details on how CanadaOne® was affected by Panda will be fully revealed on June 11, 2012 on http://www.canadaone.com.