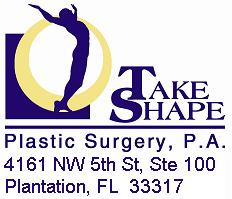 SkinMedica® is a gold standard in skincare and our best patient is an informed one.
Fort Lauderdale, Florida (PRWEB) May 31, 2012
SkinMedica's® annual skincare conference was recently held in southern Florida. Take Shape Plastic Surgery, PA attended considering the line a key link in their skincare regimen.
Benefits of the SkinMedica® line include its collaborative use in aesthetic surgical procedures; the impressive scientific research behind the products; the price point; and the cutting edge innovations of its treatment protocols. It targets acne, skin redness (rosacea), blotchiness and excessively oily and dry skin.
As a cosmeceutical company, Skinmedica® sets up an innovative collaboration between science and aesthetics and maximizes anti-aging benefits in skincare. Revolutionary, it effectively tackles aging at the epidermal level with growth factors. It leverages the body's natural biochemical makeup to enhance, improve and rejuvenate at the cellular level.
The company was developed in San Diego, CA in the mid-1990s. Backed by years of impressive and extensive clinical research, the product principles follow six steps, each with a number of products specific to your skin type.

Cleanse (about $30-$40) consists of four products depending on your skin type, to clear away dirt, make-up, and pollutants without compromising the skin's moisture balance. The end result is to enable better absorption of other skin treatments. Depending on the product, ingredients include salicylic acid, botanical extracts, or ultrafine jojoba spheres.
Tone (about $34) consists of two pH balanced products to freshen, clarify, and refine the skin for all skin types. Depending on the product, ingredients include alphahydroxy acids, salicylic acid, tea tree oil, or willow bark extract.
Skin Rejuvenation (about $155-$250) consists of two products for all skin types that utilize physiologically balanced growth factors, multiple antioxidants, matrix building peptides, amino acids, skin brighteners, calming and soothing agents, and essential skin nutrients to effect a natural cellular rejuvenation of the epidermis. Products from this step are necessarily essential not only to any anti-aging regimen, but also to the effective biological normalization of healthy skin, with effective results within one month and marked improvement within three months.
Age Defense (about $53-$90) consists of thirteen products (four for the face, three for the eye area, two for the lips, and four for post-procedure) to address skin tone, texture, firmness, puffiness, fine lines, wrinkles, dark circles, lip volume, and to maximize results from CO2 and fractionated CO2 laser resurfacing and deep chemical peels. Key ingredients include vitamins A, C, and E, peptides, and hyaluronic acid, depending on the product.
Moisturize (about $50-$112) consists of eight products to restore hydration and revitalize skin tone and texture. Key ingredients include vitamins A, C, and E, alpha-beta-hydroxy acids, and growth factors blended with antioxidants.
Sun Protection (about $40-$45) consists of two products, one with an SPF 30+ and one with an SPF 50+. Distinguishing actions of these products compared to others are the full-spectrum UVA and UVB protection utilizing Z-COTE Max™ and Parsol™ MCX in the SPF 30+ and UV ProPlex™ in the SPF 50+.
In addition to the above fundamental steps, SkinMedica® also offers three professional skin peels (about $120-$200) that are increasingly popular with Take Shape Plastic Surgery, PA patients. Each peel effectively treats mild to severe skin conditions such as photodamaged skin, fine lines, wrinkles, hyperpigmentation, acne, and acne scars. SkinMedica® also offers a specialized product line to target acne and a kit for post-laser-procedures such as CO2 laser skin resurfacing. They even have products to enhance the effects of Botox® and injectable fillers, thus helping you stretch your investment dollars when electing injectable procedures.
Take Shape Plastic Surgery, PA, offers their patients many viable solutions for their skincare needs. It focuses on injectable anti-aging regimens, lines designed to treat all skin types and conditions, and products offering both aesthetic and medical benefits.
According to the clinic manager, "SkinMedica® is a gold standard in skincare and our best patient is an informed one. We are confident that this line holds up to scrutiny."
Take Shape Plastic Surgery, PA offers free consultations. They welcome patients to check out their medispa and Medicare-certified, state-licensed, and nationally-accredited ambulatory surgical center. Those interested can check out their website at: http://www.takeshape.info, or call: (954) 585-3800 x 21, today to schedule an appointment.