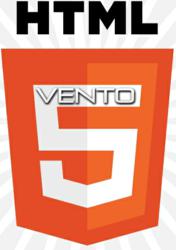 HTML5 really gives us the ability to create interactive works of web-based art.
New York, NY (PRWEB) May 31, 2012
Vento Solutions is one of America's top web design firms. Vento's web development team has been working arduously with several of the industry's most innovative visual and graphic designers to build an HTML5 website which pushes the boundaries of the code's capabilities. The site – which is currently to remain 'classified' as described by a Vento spokesperson – will feature things such as mouse tracking, 3D animation, and even an effect which simulates facial recognition.
In most recent news, Vento Solutions inducted US SEO (United States Search Engine Optimization) into the ranks of the Vento Solutions Network
As we usher in a new era of HTML5 web design and web development, allowing Flash development to rightfully become a thing of the past, Vento Solutions is ready to service any HTML5 request.
"HTML5 really give us the ability to create interactive works of web-based art," says one Vento Solutions employee.
"If the internet is capable of the animation you're envisioning, we can build it," claims another.
HTML5 has given developers a new level of freedom which they previously did not have. Many of the old limitations have been lifted as Web 2.0 allows developers to create and meticulously design the exact layouts that they desire, without out the use of the bulky and generally inferior Adobe Flash.
In fact Adobe themselves have announced that they will no longer be releasing new mobile versions of Flash, essentially making obsolete because of the rapid growth in mobile internet access.
Vento's HTML5 websites are capable of nearly anything that a Flash site is, but they are also able to optimize it for search engines (SEO) such as Google or Bing, and allow it to function properly on mobile devices like iPads, iPhones, or Androids.
Whether your website is Flash based or you just need a new or updated HTML5 site, Vento Solutions is prepared to meet your needs.
Although the new web site remains 'top secret', several on Twitter have become interested an began to speculate on the what Vento project is truly going be.