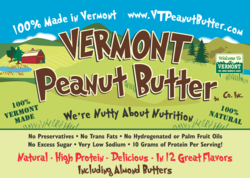 We're Nutty About Nutrition
Morrisville, VT (PRWEB) May 31, 2012
Out of the Mountains of Vermont comes Mad River Mojo, a Vermont Peanut Butter first. VTPB is the originator of this unique blend. Half all natural peanut butter and half all natural almond butter. The spread has 10g of protein per serving and is loaded with Omega rich ORGANIC flax, ORGANIC pumpkin seeds, pure Vermont raw ORGANIC honey, sweet cranberries and a touch of ORGANIC cinnamon. The combination is low in sugar with only 2g per serving and NO sodium, there are no palm or hydrogenated oils added. This is "GORP" in a spreadable form.
Gorp is a trail mix that has been around for years and now available in a spread it is a must for skiers, riders, mountain advocates and those who want a substantial return for their spoonful. The Mad River Valley of Vermont is synonymous with the outdoors and fitness and continually supports a rugged culture. The Mad River Mojo nut butter blend is all of that with a yum factor that will be noticed by millions.
Chris Kaiser CEO, of The Vermont Peanut Butter Company, a lifetime athlete and health-nut launched his Company to create a better, healthier, staple food- for kids, athletes, and families alike. Chris stated that "We created this flavor from our times growing up on the trails and remembering the punch of energy that you get when you eat a great handful of "Gorp". I am proud that we are the first to introduce this as spreadable nut butter. We look forward to more innovation with our flavors."
Additionally the company has 7 days left with its campaign on KICKSTARTER to bring to market a new line of HIGH-PROTEIN nut butters. For more information visit our website or give us a call.