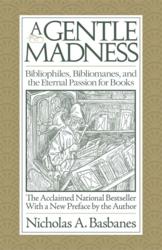 A Gentle Madness—compulsory for anyone seriously interested in books or curious about the manic nature of collecting
Durham, NC (PRWEB) May 31, 2012
A Gentle Madness is not only the name of the bestselling and most comprehensive book about the passion of book collecting, it has become a widely recognized term to describe the innocent addiction to, and allure of, acquiring books. Anyone afflicted with this malady is certifiable and in good company.
No one knows this better than the author of A Gentle Madness, Nicholas Basbanes, to whom Pulitzer Prize-winning biographer and historian David McCullough has referred as "our leading authority of books about books."
A Gentle Madness: Bibliophiles, Bibliomanes, and the Eternal Passion for Books (Fine Books Press, paper, $15.95), originally written before the emergence of the internet, is now available in a new edition, updated for the twenty-first century reader, including a new preface by the author. Appropriately, it will soon be available digitally for popular ebook readers.
The new edition of Basbanes' modern classic recalls the end of the Golden Age of collecting—that last moment in time when collectors frequented dusty bookshops, street stalls, and high-stakes auctions, conducting themselves with the subterfuge befitting a true bibliomaniac. A Gentle Madness is vividly anecdotal and thoroughly researched. A sweeping and fascinating history of collecting on all levels, it begins with the 2,200-year-old Library of Alexandria, passes through the dawn of Western printing in the Middle Ages and into the Renaissance, and carries through the marvels of twentieth-century collecting. Basbanes' new preface updates the reader on many of the personalities and key players in the world of book collecting—people like Haven O'More, Stephen C. Blumberg, William H. Scheide, Howard B. Gottlieb, Leonard Baskin, Peter B. Howard, Mary Hyde Eccles, Glen Dawson, Lou and Ben Weinstein, Michael Zinman, and Charles L. Blockson, among others.
Throughout, Nicholas Basbanes brings an investigative reporter's heart and instincts to the task of chronicling collectors past and present in their pursuit of bibliomania. Now a classic of collecting, A Gentle Madness is a book lover's delight.
For further information, visit http://www.nicholasbasbanes.com.
Media Contact: Victor Gulotta
Gulotta Communications, Inc.
617-630-9286
http://www.booktours.com
victor(at)booktours(dot)com
A Gentle Madness: Bibliophiles, Bibliomanes, and the Eternal Passion for Books
By Nicholas A. Basbanes
(A finalist for the National Book Critics Circle Award and a New York Times Notable Book of the Year)
The Definitive Edition, ISBN 978-0-9799491-5-9, Paper, $15.95
Published by Fine Books Press, 4905 Pine Cone Drive, #2, Durham, North Carolina 27707
About the Author
Nicholas Basbanes was literary editor of the Worcester, Massachusetts Telegram & Gazette from 1978 to 1991. He is the author of numerous books on book culture, including A Gentle Madness (Fine Books Press), About the Author: Inside the Creative Process (Fine Books Press), Editions & Impressions: Twenty Years on the Book Beat (Fine Books Press), A World of Letters: Yale University Press, 1909-2009 (Yale University Press), Every Book Its Reader: The Power of the Printed Word to Stir the World (Harper Collins), A Splendor of Letters: The Permanence of Books in an Impermanent World (HarperCollins), Among the Gently Mad: Perspectives and Strategies for the Book-Hunter in the 21st Century (Henry Holt), and Patience & Fortitude: A Roving Chronicle of Book People, Book Places, and Book Culture (HarperCollins). Mr. Basbanes was awarded A National Endowment of the Humanities fellowship for a forthcoming book, Common Bond: Stories of a World Awash in Paper (Alfred A. Knopf).
"A Gentle Madness—compulsory for anyone seriously interested in books or curious about the manic nature of collecting."
—Philip Kopper, The New York Times Book Review
"A Gentle Madness is a chock-a-block with such strange and appealing characters, each more wonderful than the last."
—Michael Dirda, The Washington Post Book World
"If anyone in the United States is truly a book person, surely it is Nicholas A. Basbanes."
—Martin Rubin, Los Angeles Times