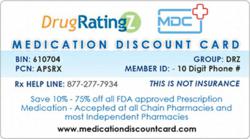 DrugRatingz.com has proven to be a valuable resource for health care consumers to obtain peer reviews of specific medication
New York, NY (PRWEB) May 31, 2012
Medication Discount Card is proud to announce a new partnership with Ratingz.net. Beginning with their site DrugRatingz.com visitors will now be able to receive all of the benefits of the Medication Discount Card – an innovative service that brings a wealth of savings to health care consumers and providers.
"DrugRatingz.com has proven to be a valuable resource for health care consumers to obtain peer reviews of specific medication," Jeremy Duboys, Founder of Medication Discount Card said. "We sincerely hope our discount card proves it's usefulness within the DrugRatingz community."
The co-branded Prescription Discount Card can easily be downloaded, printed out and used by all members. Users will receive anywhere from a 10% to 75% discount for all FDA-approved medications when using their card. There is no time-consuming application process or excessive paperwork. The Card contains no fees, no health restrictions, never expires, and is accepted at nearly every major pharmacy in the United States.
Additionally, the Medication Discount Card offers valuable discounts on medications not covered under typical insurance plans – medications such as appetite suppressants, antacids, contraceptive devices and implants, cosmetic drugs for hair growth or wrinkles, immunizations and vaccines, hypnotics and sedatives, smoking cessation prescriptions, nutritional supplies and many others.
The Medication Discount Card will deliver savings and convenience to the members of the Ratingz.net community.
For more information on the Card and Ratingz.net, please visit http://medicationdiscountcard.com and http://ratingz.net.