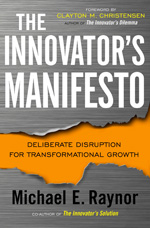 Lincolnshire, Illinois (PRWEB) May 31, 2012
The Association for Strategic Planning (ASP) held its annual conference in Lincolnshire Illinois this month. "It was a substantive conference," reported David Willden of the Strategy-Keys.com - a popular website on business strategy and execution topics.
Alan Leeds a member of ASP's board explained that "ASP is the only not-for-profit professional association passionate about helping its members to become the true experts in in strategy development and execution for business, non-profit and government organizations." He shared that "ASP has a wonderful knowledge data base of insights and best practice presentations – that is open to its members – at StrategyPlus.org"
Dr. Raynor co-authored with Clayton M. Chritensen "The Innovator's Solution" – a worldwide best seller. Michael is also the author of "The Strategy Paradox," named by BusinessWeek "as one of the ten best business books of 2007. He recently authored and released "The Innovator's Manifesto." In a review from the Financial Times, Raynor was described as "one of the most articulate and interesting of the strategists." Michael received his doctorate from the Harvard Business School, an MBA from Ivery Business School, and an undergraduate degree in Philosophy from Harvard.
Dr. Raynor provided an engaging presentation highlighting insights from "The Innovator's Manifesto." He shared that while there many theories that attempt to explain why businesses and/or products succeed and fail….most of these theories are not based on empirical evidence. Disruptive innovation is based on empirical research and can dramatically improve success rates
Robert G. Romasco, President of AARP - "All American's Age with Dignity and Purpose"
Robert's expertise is in strategy, marketing, brand development, and organizational change. He is currently the president of AARP. Robert was formerly the SVP for QVC Inc., EVP & CMO for CIGNA Inc., CEO of J.C. Penney Direct Marketing Services; SVP of American Century Investments. . He earned his MBA at Harvard Business School and his BA in history from Brandeis University.
Robert fully captured the diverse audiences' attention as he described the purpose, strategic challenges and objectives of AARP. Robert's talents and background in strategy and marketing will be put to the full test in his new role as President of AARP
Workshops were given on the following topics:
Strategic Foresight: Beyond Strategic Planning

Richard M. Pfohl, D.S.L. (Founder and Principal of Navigos Consulting, LLC)
Strategic Planning: From Direction to Implementation: One Muncipality's Journey Towards Vision Driven Planning

Lisa Marie Perkins M.A. (Corporate Strategist, The City of Red Deer)
Innovation: The Missing Ingredient in Rethinking and Resetting

Strategy and the Board: Pivotal Dialog in Governance

Mary Ann Kipp (Managing Partner, Kipp & Associates)
Michael Kipp (Chairman of I-Denti-Fied and Partner in Kipp & Associates)
Strategic Planning: The Cure for or Casualty of Organizational Overload?

David Peter Stroh (Founding Partner, Bridgeway Partners)
Driving Strategies in the B2B World: The Path to Profitable Growth

Sean Geehan (Author of National Best Selling book, The B2B Executive Playbook)
The Secrets to Facilitating Strategy with Drivers Model

Michael Wilkinson (Facilitator, Trainer, and Speaker, Leadership Strategies, Inc.)
Scenario Planning Allows You to Successfully Manage Strategic Risk -- So How Exactly is That Done?

Diane M. Meister (Founder, Meridian Associates Inc.)
What We Can Learn from Scenario Planning at Shell Oil

Herb Rubenstein, J.D., SMP (President, Sustainable Business Group)
Leslie Martel Baer MS, MA

President, Mountain Muse Strategies
Organizational Alignment Connected with Strategy

Kenneth Meyer (Founder and CEO, Alignment at Work, LLC)
Faster, Smarter Decision Cycles: The Key to Winning in the New Normal

Leland Russell (Co-author of Winning In FastTime)
Joyce Reynolds-Sinclair, Ph.D.

Managing Director, GEO Group Strategic Services, Inc.and Managing Director, Artemis
Case Study - Successful Use of the Strategic Planning Blueprint within a Non-Profit

Kathryn Ritchie (Founder and CEO, KRStrategy)
Keith Chiavetta (President and CEO, Chiavetta Management Advisors, LLC)
Recalibrate and Accelerate — Build Strategic Agility and Resilience Into Your Organization

Gail S. Perry (Vice President Strategic Solutions,The Balanced Scorecard Institute)
Innovation Renaissance: 7 Strategies for Reinventing your Business Model

Howard Rasheed, Ph.D. (Founder of The Institute for Innovation and Associate Professor of Business Strategy and Entrepreneurship at the University of North Carolina Wilmington)
Best Practices in Strategic Planning and Management in Department of Defense Systems Acquisition Programs

Dr. Stanley Rosen, SMP (Defense Acquisition University)
Strategy in Action: How to Communicate and Achieve Your Strategic Objectives Using Social Media

Jennifer Beever (Founder, New Incite)
Robert H. Rich, Ph.D., CAE (Assistant Secretary, Strategy Development American Chemical Society)
Ed Dillenschneider SMP (Chief of Strategic Planning and Management Headquarters United States Army Corps of Engineers)
Strategic Planning: The Left Brain Diet: Strategy Innovation via Design Thinking and Dynamics Capabilities in Rapid Change Environments

Frank Mruk (Associate Dean, Business and Strategic Planning, New York Institute of Technology and Executive Director, New York Center for Strategic Innovation, LLC.)
Social Communications as a Competitive Strategy: Resetting Strategy, Management, and Execution through Community

Jeanne Bradford (Co-founder,TCGen, Inc.)
Strategic Plan Realization Demanded Technology Innnovation for Success: A Case Study

Rob Baxter (Vice President Strategic Planning & CIO, Shamrock Foods Company
Managing the Execution of Collaborative Community Strategies

Bill Barberg (President, Insightformation, Inc.)
Donald Pinner (VP and COO, Hunterdon Regional Community Health)
Learn more about ASP and upcoming events - see website below.