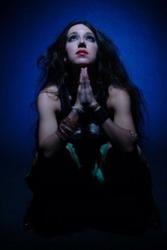 "Vajra was formed by composer, singer and multi-instrumentalist, Annamaria Pinna while living in India, and you can indeed hear an exotic influence in her songs, which though carry a very western tension and darkness." - The Deli Magazine
New York, NY (PRWEB) May 31, 2012
NYC band, Vajra, signed a massive licensing deal with the Discovery Network last week, giving the Network permission to play their music on the Discovery Channel, TLC, I.D. (Investigation Discovery), Oprah Winfrey Network (OWN), Discovery Fit & Health, Planet Green, Animal Planet and more.
The deal comes right before the release of Vajra's debut album, 'Pleroma', which is slated for the Summer Solstice (6.21.12). The album will be available on Itunes, Bandcamp and in CD format at various retailers.
Fo more information about Vajra, and their music, you can go to their website at: http://www.thevajratemple.com.