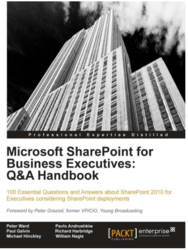 This book will prepare the readers to ask the right questions and make the right decisions.
Birmingham, United Kingdom (PRWEB) May 31, 2012
Packt Publishing is pleased to announce the publication of the Microsoft SharePoint for Business Executives: Q&A Handbook, a new book and e-book consisting of hands-on knowledge of SharePoint's business potential before deployment. Co-authored by 6 SharePoint professionals, this book allows readers to get to the bottom of business issues.
About the Authors:

Peter Ward – He has worked with collaboration technology for over 20 years and is the founder of Soho Dragon Solutions, a New York based SharePoint consultancy.
Pavlo Andrushkiw – MCSE, MCTS, and CTT+, has in his IT career already been a network engineer, systems administrator, web developer/administrator, consultant, trainer, project manager, infrastructure lead, and IT architect.
Richard Harbridge - A contributing author for the business side of NothingButSharePoint.com, has defined, architected, developed and implemented well over a hundred SharePoint solutions in international organizations.
Paul Galvin – He was awarded an MVP in 2008 and 2010, who is acknowledged to be in a group of the 50 most influential people within the SharePoint business community.
Michael Hinckley - MCITP, MCTS, has over 10 years specializing in solution architecture for organizations that span from small businesses and global corporations.
William Nagle - He is the Director of Field Operations at K2, where he assists organizations and partners realize the business value of process automation around SharePoint and other Microsoft technologies.
This comprehensive handbook provides guidance to the readers to think about governance from a simplified perspective which bridges the gap between the 'Wild Wild West' SharePoint environment, and documentation-heavy processes. It will help them build confidence to assist the technical team, while focusing on making the right business decisions
This book is for business executives and non-technical team leaders who wouldn't want to trawl through a detailed, hands-on functionality guide to get up to speed with SharePoint. It will help readers get to grips with understanding important implementation decisions and have the confidence to challenge the technical team on an approach.
Packt Publishing has also released and is due to publish other titles:
1. Microsoft SharePoint 2010 and Windows PowerShell 2.0: Expert Cookbook (Published)
2. Microsoft SharePoint 2010 Administration Cookbook (Published)
3. Microsoft SharePoint 2010 Power User Cookbook (Published)
4. Microsoft SharePoint 2010 Business Application Blueprints (July 2012)
All Microsoft SharePoint books are published by Packt Enterprise. Packt Enterprise is a publishing division of Packt Publishing created to serve the information needs of IT Professionals in the Enterprise space. Packt Enterprise also publishes on Microsoft, IBM, Oracle, Citrix, Java, Amazon, Google and SAP technologies.