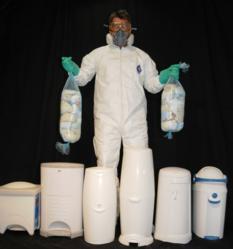 No one has put diaper pails to the sniff test like BabyGearLab
Cheyenne, WY (PRWEB) May 31, 2012
When it comes to stinky diaper pails, no one has put them to the sniff test like the Editors at baby product review website BabyGearLab.com. Today BabyGearLab announced the results of its 2012 Editors' Choice awards for diaper pails. The winner was selected from a field of 6 top rated diaper pails, each of which were put through a regiment of tests including: odor control, ease-of-diaper disposal, and ease-of-bag change. The highest weighting, 60% of the overall score calculation, was placed on odor control. The diaper pails were tested side-by-side, and odor control was assessed when closed, during dirty diaper disposal, and during bag changing. The full testing results can be found in the ratings of 6 top diaper pails of 2012 review on BabyGearLab.com.
The award winners are:

Editors' Choice Award for Best Diaper Pail 2012: Diaper Genie Essentials. According to Dr. Juliet Spurrier, BabyGearLab's founder, "we were pleasantly surprised to find that the less expensive model Diaper Genie, the Essentials, outscored the higher end Elite model in our tests. The Diaper Genie Essentials differentiated itself with odor control that was unmatched by any competing pail in our tests." Read the complete Diaper Genie review on BabyGearLab.com.
Best Value Award for Diaper Pail 2012 – Diaper Champ Deluxe. According to Spurrier, "The ability to use regular kitchen bags, yet still offer good odor control, makes the Diaper Champ a price-performance contender. The cost of replacement bags is a hidden cost in diaper pail purchase, and we calculated the cost savings by using the Diaper Champ with regular kitchen bags at over $130." The complete Diaper Champ review is posted on BabyGearLab.com.
For those unsure what to do with all those dirty diapers, the Editors of BabyGearLab have advice on How to Pick a Diaper Pail, an article that includes guidance on what features are most useful in practice, total cost of ownership, and what benefit is gained by spending more on a diaper pail.
About BabyGearLab LLC
BabyGearLab was founded in 2012 by pediatrician Dr. Juliet Spurrier and is dedicated to offering the world's best quality reviews of products needed in a baby's first year of life.