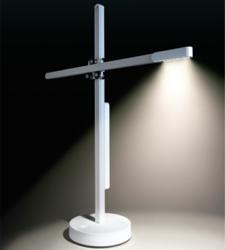 Sacramento, CA (PRWEB) May 31, 2012
Lumens.com has introduced the new CSYS LED Task Lamp by Jake Dyson, a revolutionary design built to last more than 37 years.
Available exclusively at Lumens.com, the CSYS LED Task Lamp is the latest contemporary lighting introduction from Jake Dyson, the result of six years of researching the mechanics and technology needed to innovate task lighting. The sleekly designed CSYS has a number of features that go beyond the conventions of the everyday desk lamp:
Built-in cooling mechanism: The advanced technology behind the CSYS is instrumental in keeping the lamp running for more than 37 years. Inside, the lamp features heat pipe technology, which conducts heat away from the LED lights and distributes it evenly over the length of the heat sink. Without requiring external pumps or extra energy to cool the LEDs, the CSYS is able to run brightly and efficiently for an extraordinary long time—more than 160,000 hours.
Dimmable LED lamping: Despite ever-accelerating technology that makes it challenging to keep up, the CSYS Task Lamp was designed around the latest generation of high-power, warm white LED lights and is fully dimmable. The spread and intensity of light can be controlled within the working area based on the lamp's positioning. The technology also prevents early life failure of the LEDs and ensures a stable performance.
Innovative positioning: Inspired by a construction crane and drawing board, the CSYS can be adjusted effortlessly in three axes, similar to how a cable car moves along a cable. The mechanics are designed with precision to ensure smooth, exact positioning that doesn't sag or droop after it is let go.
The name CSYS refers to the system of coordinates that defines an object's position in the X, Y and Z axis. The lamp was also featured at the International Contemporary Furniture Fair during New York Design Week this month to much acclaim for its superior functionality and sustainability.
The son of high-profile inventor James Dyson (already a household name in vacuums and fans), Jake Dyson studied Industrial Design at Central St Martins College of Art and Design and began his career designing retail interiors in shops, cafes and clubs. He later bought a mill and lathe to start experimenting and developing products, with a hands-on approach all the way through conception to a product's manufacture. His studio and workshop are based in Clerkenwell in London.
Lumens.com is the first to offer the CSYS Task Lamp, in stock and ready to ship. In addition to the new and exclusive lighting by Jake Dyson, Lumens.com also offers:
-Low-price guarantee
-Expert service via our customer service center
-Easy, no-hassle returns
-Volume order discounts
-More than 300 manufacturers, from contemporary lighting to transitional fixtures and modern furnishings, gifts and home accessories.
For additional information on these products or Lumens.com, contact Sarah Schaale or visit lumens.com.
About Lumens Light + Living:
Lumens Light + Living is dedicated to offering the very best of design-oriented contemporary lighting, fans and home accessories, from the most contemporary international designs to modern interpretations of classic design. Visit us on Facebook and Twitter.
Contact:
Sarah Schaale, Marketing Program Manager
Lumens Light + Living
916-444-5885
http://www.lumens.com
# # #