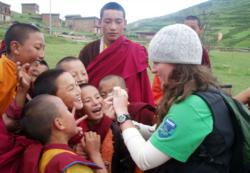 Boulder, Colorado (PRWEB) May 31, 2012
The "volun-tourism" organization Conscious Journeys (CJ) offers customizable trips and homestays to high school and university student in rural Tibetan areas. These trips are part of CJ's effort to provide services to local communities in need, promote sustainable travel, and foster intercultural exchange.
Programs can be created within the areas of health, education, sanitation, community development, environmental preservation and ecotourism. While doing work and traveling through villages, students can stay with families or in local guesthouses, where they can experience the day-to-day life of Tibetan people.
Potential service projects for student trips include building composting toilets, installing solar showers, installing solar panels, building greenhouses and developing community-based tourism—such as training local hosts, guesthouse owners, homestay families, cooks and drivers and developing unique itineraries.
Students have the opportunity to work with other like-minded individuals as well as local villagers and community leaders. CJ aims for every student to make lasting friendships and gain a better understanding of the region and the problems threatening the livelihood and culture of Tibetan people. Students will also have time to travel and visit scenic and cultural sites.
Trips can be organized for 2, 3, or 5 weeks from May to October. Because homestays and independent travel are not allowed in the Tibet Autonomous Region, all volunteer trips will take place in the Kham region of western China, in the provinces of Sichuan, Yunnan, Qinghai and Gansu. The Kham are a cultural sub-group of Tibetans, with their own dialect, history, architecture, and style of dress.
Students embarking on shorter trips of 2 to 3 weeks will stay at campgrounds in Kham while students on longer trips will stay with host families in Yunnan. Given the rugged terrain and high altitude, participants must be physically fit, able to handle altitudes up to 12,000 ft, and afford to cover their own expenses.
"The flexibility of these trips gives students the opportunity to develop their own projects and skill sets," Conscious Journeys said. "Our homestay program is really special, students and the families involved really benefit from the interaction. It's a meaningful window into Tibetan life and culture."
Conscious Journeys is the volun-tourism program of the NGO Tibetan Village Project. Tours focus on providing services to local communities, practicing sustainable travel, supporting local businesses and connecting in a positive and meaningful way with Tibetan communities across the plateau.