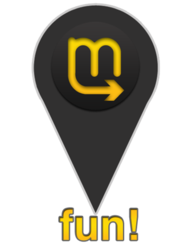 I'd much rather 'Chow Down' than 'check in' at my favorite restaurant.
Santa Monica, CA (PRWEB) May 31, 2012
iPhone users can now "leave a footprint", "throw a bib on", "chow down", "wiggle wiggle wiggle" or even "make it rain" at their favorite places.
Mergelocal is a free iPhone app that pays users cash for spreading word-of-mouth about businesses and events by allowing users to quickly rate, post tips and check-in with personality.
"Our core goal is to provide businesses and events with an easy way to reward visitors for spreading social word-of-mouth. To achieve this mission, we've focused much of our effort on creating the best user experience available", says Michael Wong, CEO and Co-Founder of Mergelocal. "The 'fun button' is a significant shift from the days of a bland 'check-in' to your social networks."
The feature Wong describes as the 'fun button', which is a small red button on the Mergelocal check-in screen that says 'fun', uses Facebook approved actions to add personality to a user's check-in. For example, instead of simply "checking-in" to a location, a user would "be a piggy" or "nom nom nom" at their favorite restaurant. These actions are then neatly organized on the users Facebook timeline. Companies like Spotify, Viddy, Turntable and Social Cam use Facebook action types to create segments on a users timeline to display what a person has done or is currently doing.
With other check-in apps, a location-based post on Facebook reads like this, "Rusty Jenkins checked in at a local business using foursquare". But a Mergelocal check-in looks more like this, "Rusty Jenkins threw a bib on at a local business using Mergelocal".
"I'd much rather 'Chow Down' than 'check in' at my favorite restaurant – it's not for everybody but it represents my personality and the personalities of many of our users", Steven Elliott, CTO and Co-Founder of Mergelocal.
This is not limited to Facebook posts either. The 'fun button' will also add a hash tag which allows action types, like #YOLO (you only live once), to trend on Twitter. This has tremendous value for events and businesses because it draws on the entire platform to drive exposure to every check-in through Mergelocal on Twitter.
"We're working with event organizers, businesses and users to create action types that promote trending on twitter which will help promote ticket sales during multi-day and reoccurring events", says Rusty Jenkins, President and Co-founder of Mergelocal. "Our platform drops the barrier of entry for businesses and events to create viral social traffic by allowing the user to easily share their experiences and be rewarded for it".
Mergelocal was released one week ago to the public and they are seeing hundreds of daily check-ins to restaurants, health and beauty categories in Los Angeles, New York and Chicago. They plan to release 100,000 restaurant, health, beauty and shopping listings on weekly basis across the country.
iPhone users can download directly from the App Store or by visiting Mergelocal.com.
Mergelocal is part of the 2012 Q2 StartEngine startup accelerator program located in Los Angeles, CA