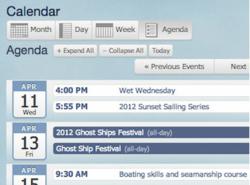 revolutionary new way to find and share events
(PRWEB) May 31, 2012
The Seed is a web development company located in Nelson, British Columbia and Hokorawa Companies is an internet marketing and media company with operations in Hawaii, California and Florida. These companies have partnered to provide a wide range of web services for their combined clientele.
Through this partnership both companies are even more committed to providing high-quality web solutions for small businesses and social entrepreneurs and delivering the best web development and Internet marketing services at the best price.
This partnership has been developing and changing due to the pressures of growth both are experiencing. The need for quality well managed teams are becoming ever more important in the small business market. In spite of this rough economy, businesses around the world are demanding more of these companies and they are working hard to meet that need.
Together they host workshops and seminars, provide business consulting and develops brands. They also host a full suite of website platforms, online marketing, social networking and content creation. This partnership has allowed The Seed to focus it's resources and man-power to create some great new time management applications for mobile and content management systems like WordPress.
The Seed is excited to announce their All-In-One Calendar Plugin For WordPress. This revolutionary calendar plugin has become one of the most popular calendar plugins for WP. This is their first published plugin and it has become very popular with a 5 star rating.
Then.ly's All-in-One Calendar is a revolutionary new way to find and share events. Installed and running on over 20,000 websites, and translated into 11 languages, the All-in-One Calendar is one of the most feature-rich calendar systems in the world. Built for WordPress, the calendar is a free download and can be installed and running on any WordPress website in a few minutes, with only a few clicks of a button.
The Seed development team is devoted to long term support of this plugin as well as the creation of other great pieces of software which will be announced this summer.
To find out more about The Seed visit http://www.theseednetwork.com.
To Download Then.ly All-In-One-Calendar visit http://www.then.ly.
To learn more about Hokorawa Companies visit http://www.hokorawa.com.
Contact Us:
Jenna Semenoff
Communications Manager
The Seed Network
1.888.308.9867