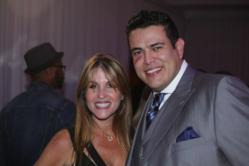 Beverly Hills, CA (PRWEB) May 31, 2012
The HOME Foundation proudly supported the Guard A Heart Foundation at their Purses From The Heart event, hosted by Aviir and Cause;ology, last Thursday May 24th at the luxurious SLS Hotel in Beverly Hills. The Guard A Heart Foundation is a non-profit organization dedicated to raising awareness about heart disease. Frankie Verdugo, President of The HOME Foundation, when asked about the Purses From The Heart Event said, "It was great to see a good turn out and that all the ladies supported the cause by doing what they do well, shopping for designer handbags and doing it for a good cause was a plus."
Guard A Heart's "Know Your Risk, Save A Life" campaign raises awareness about the importance of effective risk assessment in preventing heart attacks. Doug Harrington, M.D., CEO of Aviir Heart Laboratories is a proud supporter of Guard A Heart. Aviir is a biotechnology company founded by cardiologists and scientists at Stanford University, dedicated to the prevention of cardiovascular disease through innovative laboratory tests.
"The mission of Guard a Heart is the prevention of heart attacks through greater awareness of risk assessment options and healthy lifestyle choices," said Dr. Harrington. "So, the two foundations are very complementary and we commend them both for their dedication to reducing the devastating impact of cardiovascular disease."
According to the Department of Health and Human Services, cardiovascular disease is the leading cause of death in the United States, with more than 2 million people having heart attacks and strokes every year - resulting in 800,000 deaths. Although many patients do survive, they often suffer life-altering consequences. The mission of Guard A Heart is to educate people on the importance of risk assessment, starting at age 20, so the appropriate steps become a priority to prevent heart attacks.
About Guard A Heart
Guard A Heart is a non-profit foundation dedicated to raising awareness of heart disease prevention by spreading the word to guard your heart and save your life. Cardiovascular disease is the leading cause of death in the United States. If individuals know their risk and take the necessary steps, the good news is that most cardiovascular disease is preventable. Although heart disease is typically diagnosed in adulthood, its roots are often found in childhood. Compelling research has shown that plaque buildup in the arterial walls begins very early in life and progresses through increasing degrees of atherosclerosis. Intervention strategies and healthy lifestyle changes to reduce heart disease risk should begin in childhood when reversal of the process is easier, not later in life when the disease is more fully developed. Guard a Heart Foundation provides funding for individuals who are unable to pay for cardiac risk assessments.
About Aviir
Aviir was founded in 2005 by cardiologists and scientists from the Stanford University School of Medicine to focus on discovery, development and commercialization of innovative diagnostic tests. The biotechnology company specializes in developing proprietary diagnostic tests that will assist in identifying patients that are truly at high risk for the development of a cardiac event. Aviir's proprietary MIRisk and TruRisk assessments objectively identify, by a simple blood draw, individuals who are at a high risk of a cardiac event over the next five years. Aviir's CLIA laboratory (Irvine, CA) complements these novel tests with a wide range of additional tests for risk assessment and therapeutic monitoring of cardiovascular disease and related metabolic disorders -- including pharmacogenomic and genetic tests. The company has adopted a unique clinical laboratory service model to provide physicians better diagnostic tools that improve cardiovascular health of their patients. The company is privately owned and funded by leading life science venture capital firms.
Guard A Heart Foundation
Jeff Astgen
888-658-5937
Info (at) GuardAHeart (dot) org
GuardAHeart.org
Aviir Diagnostic Laboratories
Dina Scaglione
949.398.6320
dina.scaglione (at) Aviir (dot) com
Aviir.com
"The H.O.M.E. Foundation Proudly Supports Guard A Heart"
About The H.O.M.E. Foundation:
The Helping Others Means Everything, or The H.O.M.E. Foundation, is a not-for-profit organization dedicated to helping our Family of Charities. Frankie Verdugo, President of The HOME Foundation, wants to help as many worthy charities as possible as they struggle during these tough economic times. Frankie Verdugo helps raise funds through luxury dream home raffles, home giveaways, prizes, and high profile celebrity events in Hollywood... "Our mission is to help charities reach their fundraising goals and to bring awareness to their praiseworthy causes." Please visit our 2012 Dream Home Raffle Giveaway at: http://www.HOMEFoundationRaffle.com and http://www.facebook.com/HOMEFoundationRaffle.
###