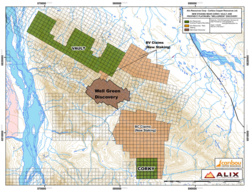 Vancouver, BC (PRWEB) May 31, 2012
Canada-based resource explorer Caribou King has targeted one of the highest-potential gold and platinum group metals (PGM) regions in the world. -(Financial Press)
Caribou King's flagship exploration property is the Vault Project located in the Yukon Territory.
The 100%-owned Vault Project consists of 3,650 acres of prime exploration territory located immediately adjacent to the Wellgreen Gold-PGM project: Caribou King's location relative to the Wellgreen project is critical.
Wellgreen is the flagship exploration and development asset of Prophecy Platinum. The Wellgreen deposit one of the largest PGM discoveries of the past few years. It contains an estimated resource of 5.39 million ounces platinum, 4.24 million ounces palladium, and 2.38 million ounces of gold in the inferred and indicated categories. That's a total of more than 12 million ounces of PGM and gold.
In addition to the PGM and gold resource, Wellgreen is estimated to contain more than 2.64 billion pounds of nickel, 2.43 billion pounds of copper, and more than 207 million pounds of cobalt. Again, all estimates are both the inferred and indicated categories.
The Wellgreen deposit's massive resource base is the primary driver of Prophecy Platinum's $120 million market value. That's more than times higher than Caribou King's market value of approximately $2.6 million.
One important feature about the massive resource on Wellgreen is spread across two zones –East and West. This means dispersed nature of the structure indicates there could be multiple more zones in and around the Wellgreen project. And that's exactly what Caribou King is targeting with the next leg of its exploration program.
Caribou King's Vault project has already had two years of early-stage exploration completed on it. The geological reconnaissance already completed includes nearly 100 grab samples across multiple outcroppings found throughout the Vault project.
Analysis of those samples returned numerous showings of significant grades of gold, platinum, palladium, copper, and other minerals throughout the project.
Some of the more notable grab samples include:
42 ppb platinum and 93 ppb palladium
23 ppb platinum and 29 ppb palladium
0.39 ppm gold, 13.2 ppm silver, and 24.5% copper
2.36 ppm silver and 2.36% copper
Those are just a handful of the samples. Again, there are nearly 100 grab samples from across the property and many show very similar results to the same metals contained in the Wellgreen project.
Caribou King's next step is to raise additional capital and advance the Vault project with more advanced geological reconnaissance.
On May 10, the company announced a financing deal for as much as $800,000. The capital will be used for exploration of the Vault Project.
Caribou King has numerous projects in addition to the Vault project. The company has secured exploration rights across a number of high-potential precious and base metals projects throughout some of the most prolific mining regions in North America.
One of those projects is the company's exclusive rights to explore the Caribou Dome project. This copper exploration project is located Talkeetna mining district of Alaska. It covers more than 10,240 acres in the region.
The Caribou Dome project has been explored and early stage exploration is also has numerous anomalies with significant grades. For example, fifty three chip samples were collected across visible oxide copper mineralization of which fifty one were collected within the nine trenches. All of the trenches hit significant widths of copper and other minerals. Specifically Trench 4 intercepted seven meters 4.03% copper.
Caribou King also has is Nursery Project in Ontario. This project covers 92 claims across 1440 hectares. It is located 70 km south of the Timmins Mining District, a region which has produced more than 50 million ounces of gold.
The company has also recently tied up a graphite project. Located in Ontario about 150 km north of Thunder Bay, the project contains at 10 known graphite occurrences and covers more than 1400 hectares across three different areas in the Ontario's graphite corridor. These three properties also correlate with resistivity anomalies identified in past exploration on the projects.
Caribou King's next move is to step up the exploration efforts on its flagship Vault project and enhance shareholder value by determining whether the Vault project hosts resources similar to its neighbor's massive gold and PGM resource discovery on the Wellgreen project.
Caribou King shares trades on the TSX Venture Exchange. The company currently has a market value of approximately $2.6 million.
Learn more information at http://www.caribouking.com.
Legal Disclaimer/Disclosure: A fee has been paid for the production and distribution of this Report. This document is not and should not be construed as an offer to sell or the solicitation of an offer to purchase or subscribe for any investment. No information in this article should be construed as individualized investment advice. A licensed financial advisor should be consulted prior to making any investment decision. Financial Press makes no guarantee, representation or warranty and accepts no responsibility or liability as to its accuracy or completeness. Expressions of opinion are those of the author's only and are subject to change without notice. Financial Press assumes no warranty, liability or guarantee for the current relevance, correctness or completeness of any information provided within this article and will not be held liable for the consequence of reliance upon any opinion or statement contained herein or any omission. Furthermore, we assume no liability for any direct or indirect loss or damage or, in particular, for lost profit, which you may incur as a result of the use and existence of the information, provided within this article.