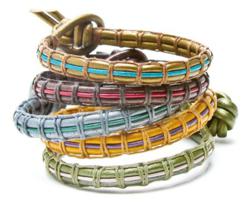 Holiday gift trends for 2012 include gifts that are made in America, eco-friendly, personal, and available at accessible price points.
Los Angeles, CA (PRWEB) May 31, 2012
Dogeared Jewels & Gifts, a trendsetting fashion brand known for innovative designs and a cool California aesthetic, is proud to present handcrafted, American made jewelry priced under $50.
Indicators for holiday shopping 2012 are positive, with trends identified in 2011 expected to continue. These include the importance of gifts that are made in America, eco-friendly, personal, and available at accessible price points. These qualities have been core Dogeared values for over 20 years.
For holiday 2012, Dogeared is pleased to offer a variety of jewels and gifts under $50, including:
Bracelet Bar – creating a personal statement with layers of bracelets is a trend that is season-less and shows no sign of waning. Dogeared offers bracelets in a range of rich colors, textures, and materials, at prices beginning at $38 msrp. Worn gorgeous alone or by the armful.
It's the Little Things – That make life beautiful: The perfect stud earrings. 16 different hand cast charms, including bow, lotus, fleur de lis, and cherry blossom charms. Sterling silver $36 and gold dipped $40.
Karma – Dogeared's best-selling collection offers beautiful styles under $50, including small karma textured hoop earrings in silver, charcoal sterling, gold, and rose gold dipped for $44 and $50.
Faith – Within the Faith category are two sideways cross designs that are on-trend and already favorite gifts to give and self-give. Large hammered cross necklace on chocolate hemp, in silver and gold dipped, $38 and $42, and sterling silver Faith sideways cross bracelet on navy cord, $48.
Keep it Simple – Brand new and elegant, the Keep it Simple circle and lotus petal necklaces are the perfect hostess gift. Sterling silver - $48.
Totes– After a brief hiatus, Dogeared's organic cotton totes are back and available in seven new designs, including In Dogs We Trust, I Love My Farmers Market, and Be Classy. $30.
Make A Wish – Dogeared's signature collection continues to grow with new concepts and charms, including Savor the Moment, Passion, Good Karma, and Make Music. Sterling silver and gold dipped, $26 and $30.
Pearls – Timeless classics. Dogeared's Pearls Of…. collection has prices that start at $24. Pearls Of …. Friendship, Beauty, Happiness, Wisdom are favorites, along with Three Wishes and Life's a Beach.
As a Certified B Corporation, Dogeared has increased its committed to decreasing its environmental footprint. All sterling charms are 100% recycled silver, and catalogs, cards, and packaging are printed on mixed sources. The company works with domestic suppliers and casters who share their environmental commitment, and all the jewelry and gifts are handmade in Dogeared's Southern California studios.
Dogeared Jewels & Gifts
Designer Marcia Maizel-Clarke founded Dogeared Jewels & Gifts just over 20 years ago in Southern California. Originating word jewelry, she began creating beautiful pieces with the purpose of putting positive, peaceful, and loving energy into the world. This energy has always included being kind to the planet, handcrafting all the jewels and gifts in California, and working with non-profit organizations sharing a vision of a better world. Dogeared's unique, custom-cast jewels are regularly featured in fashion, lifestyle, and celebrity publications, in films and on television shows. Trendsetting retailers around the world, including Nordstrom, Neiman Marcus, Bloomingdale's, Fred Segal, and ABC Home, all carry Dogeared. Dogeared is a certified B Corporation. Please visit http://www.dogeared.com for Dogeared's online flagship store. For wholesale information, visit http://www.dogearedwholesale.com.