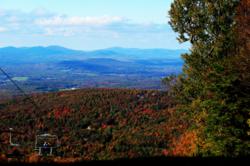 (PRWEB UK) 31 May 2012
From May 21st to May 24th 2012 a staggering 1,576 new trees were planted in the forests surrounding the slopes of Mont Sutton ski area, reveal Crystal Ski. The Mont Sutton ski resort is located in southwest Quebec in Canada, about 115km southeast of Montreal, and 250km from the Mont-Tremblant ski area.
The ski area ran a campaign on Facebook called "1 Like = 1 Tree" from January 23rd until March 22nd 2012. For each new fan of Mont Sutton's Facebook page that clicked "Like" during this period, the ski area promised to plant a tree on the mountain. The main focus of the campaign was to raise awareness of the environment conscious actions taken at Mont Sutton to help preserve the forest.
Jean-Michel Ryan, Mont Sutton general manager said, "We are very happy that so many people have joined in the project "1 Like = 1 Tree", an initiative which on top of showing the importance of the regeneration of the forest at Mont Sutton, fits in our sustainable development approach. Thank you to all those who support our desire to protect the environment of our great region."
The species of trees chosen to be planted were carefully selected to compliment the existing vegetation on the mountainside. Red and white spruce, white and red ash, yellow birch, balsam fir and oak were amongst those planted. This initiative will aid the renewal of the forest, reduce soil erosion, shield against the wind, and protect the areas between trails.
Crystal Ski offer ski holidays to the top North American ski areas across Canada and the US. Tignes ski holidays as well as other European destinations are also available. Ski deals 2013 can now be found on their site, and 'ski plus' packages are now available including flights, transfers, accommodation, ski/board hire or carriage and lift pass in one great value package.