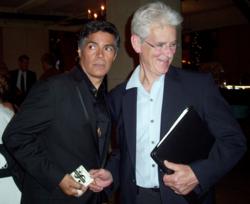 Washington, D.C. (PRWEB) May 31, 2012
Atlas Shrugged Part 2 concluded filming on May 15, in the historic Bank of America building in Los Angeles, California. The Atlas Society has published an article on these last days of shooting, "Final Filming Days for Atlas Shrugged Part 2." This colorful, behind-the-scenes account includes:
--A peek at the many activist cameos in the movie, including those by conservative leader Grover Norquist, filmmaker Logan Darrow Clements, Ross Kenyon of The Association of Libertarian Feminists, and The Atlas Society's Laurie Rice.
--A glimpse at the couple who won a contest to become extras in the movie.
--The purpose of The Atlas Society's involvement with Atlas Shrugged Part 2, which is to provide the larger philosophical context for the movie's message.
--Off-camera antics and amusing comments by actors Kim Rhodes (Lillian Rearden), Esai Morales (Francisco d'Anconia), Larisa Oleynik (Cheryl Taggart).