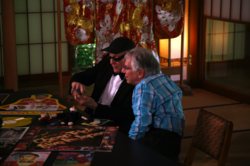 The team responsible for creating and populating the exhibit has been astounded by the depth of material available
Rockford, Illinois (PRWEB) May 31, 2012
Cheap Trick's Rick Nielsen and the Board of the Burpee Museum of Natural History have unveiled plans for a state-of-the-art exhibit that tells the story of Nielsen's passions for guitars, music and Rock & Roll.
The team responsible for creating and populating the exhibit has been astounded by the depth of material available: Nielsen's first grade report card. Guitars. Traffic tickets. More guitars. Handwritten lyrics. Still more guitars. Road logs from the early days - the really early days when Nielsen was in the Grim Reapers, The Fuse and Sick Man of Europe. Even more guitars. Scratchy demo tapes showcasing world-famous songs in the process of being recorded.
Nielsen recently spent two days with the Rick's Picks creative team and famed rock writer Ira Robbins, the Founder and Editor of 70s-era, Trouser Press, in lengthy interview sessions. Robbins and Nielsen explored, among other things, Nielsen's love of Japanese culture and Cheap Trick's amazing success at Tokyo's Budokan in the spring of 1978, in a fascinating and far-reaching conversation.
Nielsen regaled Robbins with stories of the band's shock (and delight) at literally being chased down the street by happy Japanese fans. The interviews were dual-purpose: Robbins has been charged with the responsibility of writing content for a collectible Rick's Picks exhibit book, which is in production. The interviews were also videotaped for movie content that will add texture and storytelling detail to the exhibit.
In addition, Rick's Picks just launched the exhibit's social media push with pages on Facebook and Twitter. For more information, follow Rick's Picks on Facebook. Or find emerging news on Twitter.
The exhibit opens for preview tours for sponsors, special guests and the media on August 10th, 2012, and to the general public on Saturday, August 11th, 2012 at Burpee Museum of Natural History, 737 North Main Street Rockford, IL 61103.
The exhibit will be open for tours through April 10, 2013. Admission is $18 for the Rick's Pick's exhibit and the entire museum. Local residents pay $15 (Winnebago and Boone Counties). Burpee Museum Members get FREE Admission to the museum and pay only $3 for admission to the Rick's Picks exhibit. Special Rick's Picks Membership Offer: $70 for a family 4 pack of one-day exhibit and museum admission, plus a one-year membership to The Burpee Museum. 
A special gala evening performance featuring Rick Nielsen & Friends will take place at Rockford's beautifully restored, vaudeville-era Coronado Performing Arts Center in January 2013, date pending finalization of Cheap Trick's touring schedule. 
About Burpee Museum of Natural History
Since 1942, Burpee Museum of Natural History has inspired people to engage in a lifetime of learning about the natural world. Burpee Museum of Natural History is home to 66-million year old juvenile T.rex, Jane, as well as a number of other interactive and educational exhibits. For more information, or to see a schedule of events, please visit http://www.burpee.org.
About Rick's Picks
It's Guitars. It's Rick. It's Music History. From Rockford, Illinois' skating rinks to Tokyo's Budokan, Rick's Picks tells the 40-year story of one of the hardest-working stars in Rock & Roll. As one would expect, Rick has more stories than his five neck has strings. For more information, visit http://www.rickspickslive.com or contact Anne Boccignone, 815-742-0110, aboccignone (at) grahamspencer (dot) com.
About Rick Nielsen & Cheap Trick
When Cheap Trick burst onto the national music scene in the 1970s, it broke new ground with a punkish, hard-edged brand of literate garage rock that was the perfect antidote to what ailed weary FM radio listeners worldwide. Their uniquely midwestern sensibilities have been deftly recorded in 26 albums and laid bare in thousands upon thousands of performances worldwide. With walls of gold and platinum records to prove their enduring success, Cheap Trick and its pick-flinging, checkerboard-bedecked dynamo, melody machine Rick Nielsen has never stopped touring, much to the delight of one of rock history's most loyal fan bases. Rick Nielsen, and bandmates Robin Zander and Tom Petersson can be seen touring with Aerosmith in major cities across North America this summer.