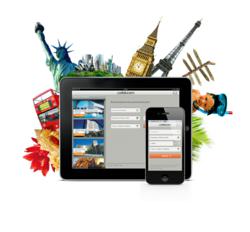 Anyone looking to download otel.com iPhone or iPad app before traveling will find everything they need here.
(PRWEB) May 31, 2012
As more and more travelers take their mobile devices away them it is clear that there is a growing market for mobile applications to help them make the most of their trips. With the world becoming more reliant upon these devices otel.com gives travelers a hotel booking application with a new iPhone app design. "Otel.com has many customers who use their mobile phones to book a hotel therefore we launched an application for iphone and ipad to save travelers' time when they look for the right accommodation. Anyone looking to download an iPhone or iPad app before traveling will find everything they need here," said Murat Esmer, Social & Mobile Marketing Executive of otel.com.
There are more than 250,000 hotels in 208 countries which can be researched and booked by anyone who has the new mobile application on their iPhone or iPad.
The addition of a simple, 4 step booking process with no booking fees is another feature which is sure to be attractive to anyone who wants no hassle apps for iPhone and iPad which they can use for last minute hotel reservations.
Both map and hotel details can be viewed at the same page. Revising or adding to the favorites the search results, adding on a transfer to the hotel are also available with otel.com mobile application.
10 language options (Arabic, English, French, German, Hungarian, Portuguese, Russian, Spanish, Swedish and Turkish) allow more travelers to use the application at their native languages. The options to quickly search for hotels, see them on a map and to read hotel reviews mean that anyone who has the desire to travel can find the best place to rest their head in the evenings.
This free iPhone and iPad app can be found online at the Apple store. Travelers who want to know more about the servicer can find iPhone app details on the Apple store site with all of the features listed. There is also an Android version in development which will ensure that users of this operating system will shortly be able to book hotels online using its features.