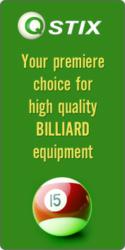 To cater to their new fans, QStix has added a large assortment of new products to their arsenal of brand name billiard equipment.
Anaheim, CA (PRWEB) May 31, 2012
More and more people have been catching on to the pool lovers' paradise that is QStix, a leading online retailer of pool cues and billiard supplies. To cater to their new fans, QStix has added a large assortment of new products to their arsenal of brand name billiard equipment. And as a token of thanks and appreciation to their customers, they have also gone ahead and discounted many of their products, too.
As billiards aficionados know, there's nothing better than the smooth touch of a new maple cue stick gliding through their hands as they send the cue ball sailing for that perfect break. Well, QStix never forgets this, and the company was founded by billiards enthusiasts wanting to make shopping for the best pool equipment fast and easy. With an international customer base that is growing by the day, their vision has become a reality and has caused the company to add a host of new products for customers to enjoy.
"It's really exciting to see our vision really start to take flight," said Akaash Prasad, Manager of QStix, speaking on the recent growth. "We are all pool junkies ourselves and play all the time, but always faced the problem of getting the billiard supplies we wanted in one convenient location. We founded QStix with the intention of helping other billiards fans out and it has grown more than we ever imagined. To lead the way into the next chapter of the QStix story we decided to add even more products to our store and discount many of our pool cues and billiard equipment because, in the end, it's all about the game, right?"
With its skyrocketing popularity and growing list of available products, QStix is already planning the next shot it's going to pocket.
About QStix
QStix is a leading online retailer of pool cues, billiard equipment and accessories, founded by billiards lovers, for billiards lovers. It is an all-inclusive, one-stop shopping site for pool pros and beginners alike, aimed at providing the best brand name equipment available in one convenient location.
With a large assortment of pool cues – everything from Meucci cues and Predator cues to Lucasi pool cues and Cuetec cues – the online retailer is determined to go to any length to make sure that all players can find what they're looking for. It also offers a host of other products like billiard balls, bumpers, pool hall furniture, billiard gloves, clothing, darts and poker products, emphasizing QStix's mission to really be a billiards paradise.
QStix also offers express shipping, international shipping and regular discounts as well.
To browse the QStix catalog head to their website, and for any questions feel free to call them at 949-303-6509, or shoot them an email at marketing[at]qstix[dot]com.