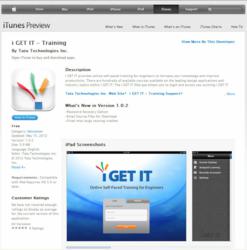 There has never been this much engineering training content available from a single source for iPad users ...
Detroit, Mich. (PRWEB) May 31, 2012
i GET IT, the online self-paced training solution for engineers from Tata Technologies, announced the availability of an i GET IT iPad app, creating a convenient way to access the widest selection of engineering content ever made available to iPad users. The app is available through the online iPad App Store.
"This is a milestone for i GET IT," said Dan Miles, Vice President iProducts – Tata Technologies, commenting on the release of the iPad app. "There has never been this much engineering training content available from a single source for iPad users – including engineers, educators and students; and this app makes that content easy to access from just about any location."
The i GET IT iPad app allows users to logon to their existing i GET IT account and access their personal learning path, including courses in SolidWorks, Autodesk products, Siemens PLM products and Dassault Systemes products. It also allows new users to sign up for free memberships and experience the full range of free courses available in the i GET IT portfolio. Miles noted that course content cannot currently be purchased using the iPad app, but that enhanced functionality is planned.
Tata Technologies is an authorized Apple Developer, through the iOS Developer Program. Under that program, apps are evaluated and certified before they are made available through the online App Store.
"Offering our industry-leading training and knowledge portfolio via the iPad is part of the overall strategy of expanding i GET IT to meet the needs of engineering professionals worldwide," said Miles. "More than 50 percent of i GET IT accesses are from outside the United States, including throughout the Asia-Pacific region and Europe. This iPad app supports that global community and enhances global access."
To download the i GET IT iPad app, free of charge, go to the online iPad App Store at this link: http://itunes.apple.com/us/app/i-get-it/id509580179?mt=8
Beyond training and skills enhancement, i GET IT offers engineering professionals in more than 60 countries a full portfolio of courses and engineering knowledge, online technical assistance and engineering industry news to support skills development and increase productivity. To view a demonstration of i GET IT, follow this link: http://www.youtube.com/watch?v=OmEM5KZfgZw&feature=player_embedded
iPad is a registered trademark of Apple Inc.
About Tata Technologies
Tata Technologies, founded in 1989, is a global leader in Engineering Services Outsourcing and Product Development IT services to the global manufacturing industry; enabling ambitious manufacturing companies to design and build better products.
Tata Technologies is a company of innovators, specialists in the design engineering space, who apply cutting-edge technology to provide a competitive advantage to customers in the manufacturing sector. The company is a strategic partner for developing complete vehicles (VPD group), engineering subsystems and components (E&D), managing the NPI process and collaborative engineering (PLM), and tying together information created and used throughout the extended manufacturing enterprise (ESG). Tata Technologies is headquartered in Singapore, with regional headquarters offices in the United States (Novi, Michigan), India (Pune) and the UK (Coventry). The company has a combined global work force of more than 5,600 employees serving clients worldwide from facilities in North America, Europe and the Asia-Pacific region. http://www.tatatechnologies.com
About i GET IT
i GET IT provides online self-paced training for engineers. The i GET IT training course library contains courses and tutorials for today's leading design software and industry topics. i GET IT also enables you to publish your own training content to share knowledge within your organization. Providing ongoing training and knowledge management within your organization develops BETTER engineers. The journey of becoming BETTER is ongoing and requires continuous improvement. BETTER engineers are more productive, innovative, produce higher quality, and are motivated. To learn more about i GET IT visit the website here: http://www.myigetit.com.
For further information, contact:
Technical: Dan Miles, Vice President – iProducts Tata Technologies
+ 1 248 426 1750
dan.miles(at)tatatechnologies(dot)com