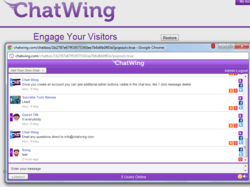 Pittsburgh, PA (PRWEB) May 31, 2012
Health blogging is not considered a trend nowadays, because it is a necessity. This is based on hundreds and thousands of users who are looking for ways on how to improve their health. This basic need has led to the creation of thousands of health blogs all over the world. Chatwing, a reliable and advanced free chat box, is now available to health bloggers and their visitors. This simple communication tool will help many people gain the proper health information that they truly need.
Chatwing is now making a name in the blogging industry because of its versatility and straightforwardness. Adding to that, this application can be used easily. In just simple clicks, a user will now be able to connect to large groups of people. Bloggers, on the other hand, can install the shoutbox in just few seconds. This ease of access and installation has benefited a lot of bloggers from different parts of the world.
The Chatwing shout box is also versatile because it can fit in different online communities. The Chatwing development team has also noted that the chat tool is famous in communities such as technology, trends, current events, finance, online marketing tips, fashion, and humor. Visitors of health blogs are now using Chatwing's chat app to ask questions and post their health-related experiences.
In the latest version of Chatwing, up to 600 people can chat in real time. This simply means that the potential for communication is better, compared to other chat applications. The Chatwing web chat box also allows social media integration. Through this option, chatters can now log in with their Facebook or Twitter accounts.
In order to keep the users well-informed, the Chatwing team has created a Facebook page that is always updated with new and reliable content. Also, in Chatwing's main page, an embedded chat box can be used for quick trials. There is also an admin present, ensuring that the questions of Chatwing's users will be answered in a quick basis.
About Chatwing.com
Chatwing.com has developed live chat software for websites and blogs. It caters to different online communities due to its high rate of connectivity. Everyone can create a customizable live chats feature in 1 minute or less. Users have the ability to customize the size, color, and fonts of the chat product. The ability to chat via social media accounts such as Facebook and Twitter enable Chatwing to offer a personal and unique real-time experience to all sites. Chatwing is 100% free and very easy to use.