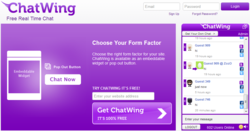 Cambridge, MA (PRWEB) May 31, 2012
Ajax is one of the best and highly-needed programming languages in the Internet today. This is based on the numbers of web applications that are operating under Ajax, such as search engines, chat applications, and online shopping websites. Ajax allows web pages to operate like real desktop applications, enticing more web surfers all over the world. Lately, Ajax beginners were hanging out in a global shout box known as Chatwing. This chat application extends help to everyone by providing clear communication leverage.
Chatwing is a simple chat application that highly emphasizes the premise of website chat and blogging. It has been used in several blogging sites and online communities. One of Chatwing's strong points lies on its adaptability and stability in terms of connection. Lately, the Chatwing development team has noticed that Ajax programmers have been flocking in the chat tool, asking for programming tips. Now, some Ajax professionals are also visiting Chatwing to send out important website links that can help beginners in their craft.
As a bonus, Chatwing allows Facebook integration for everyone. Through this option, Chatwing users can now log in with their Facebook accounts and send out invitations to each other. This is useful for people who are searching for Facebook groups. Ajax programmers can use Facebook integration to find more friends and widen their social networks.
Bloggers have also observed that their blogs have increased in activity, prior to Chatwing usage. This is possible because Chatwing shoutbox turns a blog into an active chatting lounge where visitors can come and go. If the content of the blog is interesting, visitors have tendencies to stay for long periods of time. At a continuous rate, a blog which generates many hits will have a decent online ranking in the long run. Also, bloggers were enticed of Chatwing's easy installation mechanism which takes only few seconds.
The Chatwing team also maintains a Facebook page that is filled with updates and useful content. Adding to that, there is an embedded chat widget in the Chatwing homepage. This enables users to try out the real-time chat experience that Chatwing can offer.
About Chatwing.com
Chatwing.com has developed live chat software for websites and blogs. It caters to different online communities due to its high rate of connectivity. Everyone can create a customizable live chat box feature in 1 minute or less. Users have the ability to customize the size, color, and fonts of the chat product. The ability to chat live via social media accounts such as Facebook and Twitter enable Chatwing to offer a personal and unique real-time experience to all sites. Chatwing is 100% free and very easy to use.