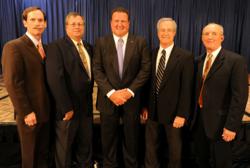 Today, I get a chance to give out the 40 year awards to five very close friends, five people that did a lot to make this company successful.
Lafayette, LA (PRWEB) May 31, 2012
Although Acadian has only just recently celebrated 40 years of service, five employees had the honor of receiving a 40 Year Service Award for their unwavering dedication through the past four decades. Don Elkins, Robert Frederick, David Pierce, Keith Simon and Dan Lennie were recognized for this distinguished accomplishment at Acadian's annual Awards Ceremony, held at the Lafayette Convention Center.
Since emergency medical services' ambulance programs began in the early 1970s, these men have seen EMS through its infancy to the technological wonder that it is today. They have also seen Acadian grow from only two ambulances and eight medics to over 3,600 employees and six different divisions that work around the globe.
Elkins began his career with Acadian in 1972. He had just returned from Vietnam when Acadian Cofounder, CEO and Chairman Richard Zuschlag met him and convinced him to join Acadian as a medical attendant on the ambulance. He went on to become a paramedic, and also worked in dispatch, operations, and most currently, as a service manager at Acadian On Call.
A former volunteer fireman, Frederick is Acadian's facilities maintenance supervisor. He worked for 18 years as an EMT-Intermediate in Kaplan; however, due to his vast knowledge of plumbing and electrical work, he was often called in to Lafayette to do odd jobs around the company. This led to him becoming a full time maintenance employee, and he is now a state licensed contractor for commercial and residential properties, a state master plumber and electrician, and he still retains an EMT-Intermediate certification.
Pierce joined Acadian Ambulance in 1972, as a 19-year-old ambulance driver. He became an Emergency Medical Technician-Basic and advanced through the ranks. He has worked as dispatcher, operations manager, vice president of operations, executive vice president of operations and chief of staff. Currently the president and chief operating officer at Acadian, Pierce acts as a liaison between vice presidents and the CEO. He has served on numerous boards and committees, including the United Way, Chamber of Commerce, Boy Scouts of America, American Heart Association, March of Dimes, Miles Perret Foundation, American Cancer Society and the Louisiana Open.
Simon also began his career in 1972, as a military medic with Pierce as his ambulance driver. He took the state's first EMT course in 1973 and worked as the company's first full-time dispatcher. Two years later, he became the company's information director and began handling the public relations and photography for the company, which eventually led to his current position as vice president of PR and marketing. He has been a member of the Evangeline Area Boy Scouts of America Council Executive Board since 1993, and also serves on the Lafayette CPR Heartstarter Committee, volunteers for Opus Christi Magnum (formerly known as the Bishop's Charity Ball), and has held numerous volunteer stations with St. Bernard Catholic Church.
Lennie received his bachelor's degree in nursing from the University of Southwestern Louisiana (now the University of Louisiana at Lafayette) and his master's degree in Health Services Administration from the University of St. Francis. He joined Acadian in 1972 as an EMT, working his way through college, and was one of the country's first 100 nationally registered paramedics, maintaining that certification for 22 years. He continues to maintain his RN licensure. Working out of the Baton Rouge office, Lennie has oversight of all operations in the Baton Rouge, Northshore, and Mississippi markets as vice president of operations. He is a graduate of Leadership Greater Baton Rouge and Leadership Louisiana and served on the Louisiana State EMS Commission and the Louisiana Patient's Compensation Oversight Board.
Having known all of these men for the entirety of their careers, Zuschlag was proud to hand out these awards. "This is pretty special for me," he said. "Today, I get a chance to give out the 40 year awards to five very close friends, five people that did a lot to make this company successful."
Since 1971, Acadian has been committed to providing the highest level of emergency medical care and transportation possible. In the past decade, they have expanded to include a diverse suite of services designed to offer the very best support and education in health, safety, and transportation. Acadian's six divisions are Acadian Ambulance Service, Acadian Monitoring Services, Air Med, Executive Aircraft Charter Service, National EMS Academy and Safety Management Systems.
###