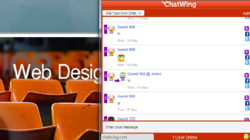 Cambridge, MA (PRWEB) May 31, 2012
Web page creation is now the most common activity in the Internet today, aside from search engine exploration. This is based on the numbers of web pages being created in the Internet everyday. The Chatwing development team has recently launched a simple yet reliable chatbox that can help new web page creators get the tips that they need. This chat application is known for its versatility in different blogs and websites.
Chatwing appears as a simple chat widget for everyone. However, this simplicity has enticed a lot of users from many parts of the Internet. In just few clicks, a visitor can begin communicating in the Chatwing tool right away. Since Chatwing is versatile, there are lots of topics and discussions to choose from. Any visitor is welcome to start a new discussion. The Chatwing development team has also noted that the most common discussions are related with trends, technology, fashion, Hollywood, humor, gaming, and various tips.
Chatwing is also built to improve the quality and online presence of blogs. Once Chatwing is installed in a blog, it has the potential to become a chat lounge where people can gather and start talking about different stuff. The Chatwing chatrooms also allows social media integration. This option allows users to log in with their Facebook or Twitter accounts.
Bloggers who were also online entrepreneurs have used the Chatwing shoutbox to relay product and service updates to their customers. In this way, Chatwing helps any online marketing campaign. The latest version of Chatwing can also accommodate up to 600 chatters, increasing the potential of communication between groups of people. With this function, web page creators can get numerous tips from many people simultaneously.
About Chatwing.com
Chatwing.com has developed live chat software for websites and blogs. It caters to different online communities due to its high rate of connectivity. Everyone can create a customizable live chats feature in 1 minute or less. Users have the ability to customize the size, color, and fonts of the chat product. The ability to chat via social media accounts such as Facebook and Twitter enable Chatwing shoutbox to offer a personal and unique real-time experience to all sites. Chatwing is 100% free and very easy to use.