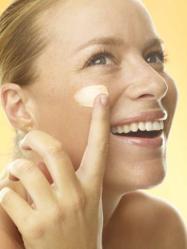 Eliminate the clutter and confusion from your anti-aging regimen.
Apex, Raleigh, NC (PRWEB) May 31, 2012
Scientifically, skin begins to age in our mid to late 20s. Metabolic, circulatory and lymphatic systems all begin to slow down around this age. The resulting drop in nutrients and oxygen causes a reduction in the skin's fatty tissues, which are needed to bind and store essential moisture. The lowered capacity to retain moisture creates the conditions for lines and wrinkles to form on the skin. The depletion of skin oils and moisture, which combine to form the vital acid mantle of the skin, weakens the skin's natural healing functions and its resistance to external influences. The weakening of regenerative powers reduces skin's self-corrective ability. The first signs are increased dryness and sensitivity, and a decrease in skin elasticity.
After 18 months of extensive research and testing, SKIN all natural™ scientists succeeded in harnessing the power of nature to holistically revitalize the aging skin. They studied various botanical ingredients and combined them in a manner that enhances its bio-availability and therapeutic effects in activating many of skin's inherent healing and beautifying mechanisms, These pure and natural ingredients work safely in synergy with skin to enhance and support its hydration, lubrication, protection, repair and regeneration. The result is increased elasticity, firmness, softening and smoothing as well as decreased wrinkles, age spots and dark circles, making one look younger and brighter.
With the introduction of Young and Bright, SKIN all natural™ continues its leadership role in creating a paradigm shift in natural skin care market. As consumer awareness regarding dangers of chemicals in personal care product increases, many companies, eager to jump in the band wagon, "green wash" their product line by introducing few natural ingredients in their products. It is extremely rare to find a company that is committed to making, only 100% natural and holistic products.
About SKIN all natural™
Inspired by the ancient Ayurvedic tradition of India and backed by modern scientific research, SKIN all natural™ is a uniquely superior and paradigm shifting skin care brand of Choice All Natural, Inc. a US based manufacturer and marketer of high quality, plant derived alternatives for beauty, health and wellness consumers. http://www.skinallnatural.com