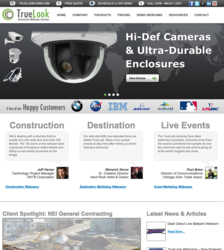 Winston-Salem, NC (PRWEB) May 31, 2012
TrueLook, a provider of professional webcam solutions, has launched yet another website this year. It was only a short 3 months ago that the company debuted TrueLookCams.com, a social index of thousands of public webcams from across the globe. Today, TrueLook announces a fresh redesign and restructuring of its corporate website, TrueLook.com.
The company's new website brings a few extras along with it. Interested visitors can now request a live demo of TrueLook directly from the website. Demo presentations generally last 10-15 minutes depending on questions from the audience. A team member walks through camera, wireless, and solar power options and then demonstrates interface functionality.
Other notable additions include free shipping (on most orders), edge recording capabilities, and new 5 megapixel webcams. Edge recording now lets construction managers record full-motion video of their job site, and the new 5MP high definition cameras produce images much larger than most computer monitors.
The new website also does more to educate visitors about TrueLook products. A new pricing guide allows for easy side-by-side comparison of TrueLook packages. Company press releases, case studies, and news are now easily searchable, and a corporate blog allows for continued updates.
To view the new website and learn about TrueLook's webcam technology, visit http://www.TrueLook.com.
About TrueLook: TrueLook is the world's premier interactive webcam system, specializing in construction, hospitality, event-marketing, and destination webcams. For over 15 years, TrueLook has been deploying cameras on every continent of the globe - including the NASA camera on the South Pole. This world wide network of IP-based cameras has captured over 2.2 billion media clips, delivering them to over 100 million users with a 99.999% service up-time. TrueLook has also been a pioneer in IP camera technology, having built the world's first pan/tilt/zoom (PTZ) network camera.