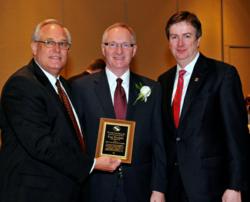 Plunkett is well-respected in the credit union movement and passionate about the mission of credit unions worldwide.
(PRWEB) May 31, 2012
Russ Plunkett, President and CEO of Postal Credit Union (PCU) in Minnesota, announced his upcoming retirement during the recent Annual Meeting, held April 29 at the Prom Center in Oakdale. Plunkett joined PCU in 1981 and was named to succeed the then-retiring Ron Madery as president in 1992. Plunkett's successor, current PCU Executive Vice President of Operations/Lending Brian Sherrick, will take charge November 15.
During his tenure, Plunkett has overseen a revolutionary expansion of services offered by PCU. When he started in 1981, electronic services consisted of the telephone and a few dummy computer terminals. Today, PCU incorporates the latest technology into its service offerings, including a new online banking and bill pay service launched earlier this year. In addition, PCU offers e-statements, online loan approval, online deposits, access to a broad ATM Network, credit and debit card capabilities and more. Under his leadership, PCU's Mortgage department has expanded to include loan origination, complete closing and title services, and mortgage servicing. PCU also added Business Services to its full line of financial solutions and opened three new offices in Eagan, Hugo and Woodbury. Assets have grown from $109 million in 1992 to $530 million as of April 30, 2012.
Plunkett was recently inducted into the 2012 Credit Union House Hall of Leaders, one of 13 credit union leaders honored by Credit Union House LLC in Washington, D.C. Members of the Hall of Leaders have shown commitment that inspires others in the credit union movement, and include board chairmen, league presidents, credit union CEOs, league board members, and volunteers. Their names remind all who visit Credit Union House of the many individuals who have volunteered their time to perpetuate the credit union movement and who demonstrate commitment to the values and mission on which credit unions were founded.
Plunkett is well-respected in the credit union movement and passionate about the mission of credit unions worldwide. Over the years, he has been influential in the development of the Minnesota credit union movement. As Chairman of the Minnesota Credit Union League, Russ led an effort to merge Minnesota's two trade associations into one entity, which led to the creation of the Minnesota Credit Union Network (MNCUN).
Throughout his 34-year credit union career, Plunkett has made it a priority to engage elected officials in conversations about credit unions and their positive impact on members and communities. For 10 years, he has been an active member of MNCUN's Political Involvement Committee, participating in countless political events and activities. He is passionately involved in the political process and has dedicated time and resources to advocating for credit unions at the Minnesota State Capitol and on Capitol Hill.
Founded in 1926, PCU is a member owned financial institution that specializes in providing excellent member service, great rates and convenience. PCU offers a complete range of services, including 24/7 loan approval, mortgages, online banking, online deposits, checking, business services, investment services and more. PCU is proud to serve Anoka, Chisago, Dakota, Hennepin, Ramsey and Washington counties, with office locations in Eagan, Hugo, North St. Paul, West St. Paul and Woodbury. For more information, contact PCU at 651-770-7000, 800-247-0857 or visit http://www.postalcu.org.