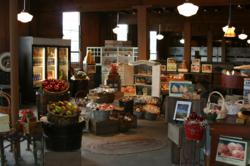 This is a wonderful opportunity for the local community to come visit our gifting facility.
(PRWEB) May 31, 2012
The Fruit Company has designated every Friday as "Fruit Friday" - a time when local customers and visitors can purchase world-renowned orchard fresh fruit at favorable discounted prices.
The fruit is of higher quality than can be typically found at the grocer's, but is available because it does not meet The Fruit Company's extremely stringent gift grade. Excess inventories of gourmet goodies are also on hand for purchase.
On Friday, June 1st, The Fruit Company is holding a one-time Warehouse Extravaganza – to be held from 8 am to 10 pm and 12 pm to 3 pm – to clear out its spring inventory. Customers may choose from decorative boxes or wicker baskets and fill them with delectable fruit and gourmet treats – all on sale.
According to Scott Webster, CEO of The Fruit Company, "This is a wonderful opportunity for the local community to come visit our gifting facility, where some of the world's finest fruit gifts are created, and choose their favorite varieties at a very special price."
To sweeten the offer, the first 50 customers who arrive at the warehouse, located at 2900 Van Horn Drive in Hood River, will receive a decadent box of 36 individually-wrapped Bellows Chocolate Ganache Brownies, absolutely free. Since the Ganache Brownies will be offered on a first come, first served basis, it is essential to arrive early; doors open promptly at 8 am.
Fruit Friday items are for purchase in person at the Hood River location only. Orders are not accepted and items cannot be shipped. Fruit Friday selections change from week to week. So be sure to sign up for The Fruit Company's emails to keep in-the-know about the following Friday's choices. To find out more about The Fruit Company visit the website at http://www.thefruitcompany.com.
About The Fruit Company:
The Fruit Company, located in the Hood River Valley of Oregon, has dedicated itself to delivering the finest orchard fresh fruit and gourmet gifts. The company heritage, spanning three generations, is focused on delivering the best-tasting, healthy items from their vast product offerings. As one of Oregon's Top 15 growing companies and part of Internet Retailer's Top 50 "Best of Web", The Fruit Company continues to impress and amaze with a wide selection of gift items - for all occasions - shipped throughout the United States. Today they are one of the top gift basket companies and employ more than 200 people during their peak season. For more information on The Fruit Company's gift selections and sustainable practices, please visit their website at http://www.thefruitcompany.com.