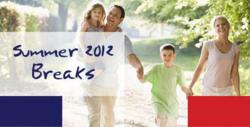 (PRWEB UK) 31 May 2012
Superbreak, the UK's leading short breaks provider, has announced the launch of its brand new summer offers campaign, providing customers with great value savings across its entire product range for summer 2012. Launched early last week, the campaign focuses on a range of regional and overseas offers including family theme park breaks, city breaks, country retreats and seaside escapes, with value added offers, discounted savings and free nights available across many hotel breaks.
Over recent months, Superbreak has been busily expanding its range of great value packages across the length and breadth of the UK and overseas to offer a great choice for customers wishing to find alternative destinations to London throughout the Olympics for a Summer Break. With the 2012 Olympic Games set to run from the 27th July to the 12th August, along with the Paralympic Games following immediately after, the York based tour operator has worked closely with its key suppliers and partners to secure excellent room allocation for its customers seeking a short break outside of London.
Superbreak customers can take advantage of a range of countryside, coastal, family and city breaks ranging from two nights in Liverpool with a free sightseeing or tour gift from £55 per person, two nights in Bournemouth with dinner on both nights from £69 to family attraction breaks at Cadbury World with hotel stay from £94 for a family of four. As with all bookings, customers are presented with a range of flexible packaging options and a wealth of tours, sightseeing passes and return rail tickets on all bookings.
As well as sourcing a fantastic range of overseas and regional hotels Superbreak still have a wide range of London breaks and last minute hotel deals for those who wish to experience the sights and sounds of the Olympics in the heart of the capital.
What's more, customers looking for an overseas break this summer can take advantage of the operator's extensive catalogue of overseas hotels. From vibrant city centre hotels in the heart of Paris and Barcelona to peaceful apartments in the Greek Islands and southern Spain, Superbreak offer a range of hotels to suit all budgets and tastes. With the recent expansion of their travel options to include flight packages, Eurostar breaks and ferry crossings Superbreak are able to offer a one stop shop for its customers.
Superbreak's Direct Marketing Manager Rachel Dawson commented: "With so much going on in the UK this summer, it's a great time to explore our own country - and Superbreak has a great choice of great-value short breaks on offer. With everything from captivating historic cities to relaxing countryside retreats and popular beach destinations to exciting theme parks, there's something to suit all tastes and budgets."
About Superbreak:
Superbreak is the internet division of Superbreak Mini Holidays Limited, the market leader for short breaks and hotels throughout the UK, including hotels in York, Paris and Dubai. Superbreak is part of Holiday Break plc. Based in York, England, Superbreak specialises in booking city breaks in 2-5 star hotel accommodation throughout Britain for the leisure traveller. Superbreak also work with various travel providers offering a range of rail breaks, P&O mini cruise breaks, flights & more.
With 5000 plus hotel partners in worldwide locations from Manchester to Brighton, from London to Paris and with great availability and rates for theatre breaks, events at the O2 Arena, various popular attractions and national and international rail partners, Superbreak can offer an outstanding depth and breadth of UK and Overseas short break products.
For further information on Superbreak or on this PR, please contact:
Khalid Amin
Online Marketing Manager
Superbreak Mini-Holidays
Eboracum Way
York
YO31 7RE
(01904) 436043
http://www.superbreak.com