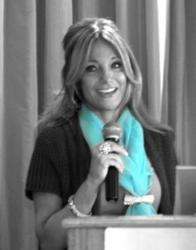 "I feel that one of my purposes in life now is to share my story with as many women as I can.
Herkimer, N.Y. (PRWEB) May 31, 2012
Annese & Associates, Inc.'s Andrea Annese Como (along with her two canines, Noel and Natasha) are proud to support the second annual "Dogs and Divas" Fashion Show and Lunch, hosted by the American Cancer Society. The event will take place at the Saratoga National Golf Club on June 14th. Andrea will be one of the show's models.
Andrea is an Ovarian Cancer survivor and advocate, and sits on the board of "Caring Together," an Ovarian Cancer support, education, and awareness group located in the Capital District. She is a frequent speaker at Albany Medical College, Bassett College, Herkimer Community College, and Russell Sage College, to name a few, and has been involved in countless community-driven events sponsoring the cause.
"I feel that one of my purposes in life now is to share my story with as many women as I can," Andrea states. "I hope that women can relate to me because I am a mom, very passionate about staying fit and healthy, and a success story that could have had a very sad ending if I did not listen to the whispers of the disease."
In addition to her strong advocacy role, Andrea, along with her three sisters, own and operate Annese & Associates, Inc. The 42 year old organization which just surpassed the 100 employee mark this year is a certified New York State Woman Owned Business Enterprise that provides integrated communications systems for clients throughout New York and New England.
Andrea is the company's Wellness Advisor. Annese's Wellness program was rooted in the company's commitment to work/life balance and designed to promote and reward healthy living initiatives for all employees.
For more information or tickets to "Dogs and Divas," please visit
http://www.nycharities.org/events/EventLevels.aspx?ETID=5101
About Annese & Associates, Inc.
Expertise, Relationships, Innovation. Throughout the past four decades, these principles have established the foundation upon which Annese & Associates has emerged as the trusted adviser to our customers, partners, and communities. While we emphasize the value of designing, installing, and maintaining the boxes and wires that make up your network, we never lose sight of the core deliverables: leadership, integrity, and excellence. Our connections extend beyond devices and networks; we bring people to people, and ideas to action.