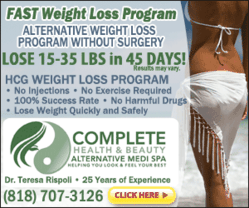 Agoura Hills, CA (PRWEB) May 31, 2012
Dr. Teresa Rispoli, Complete Health's President and Wellness Counselor, has 25 years' experience, holds a Ph.D. in nutrition and is a Licensed Acupuncturist and Esthetician. She takes a holistic approach, looking at one's complete self, helping to bring inner health and outer beauty to all Complete Health patients.
Complete Health offers the latest cutting edge natural procedures such as Lipo Massage by
Endermologie for Cellulite Reduction, their renowned non-surgical face lift, an acupuncture face lift, Notox (no needle Botox alternative) and no needle dermal/wrinkle fillers. They also offer skin care such as gentle Chemical Peels and Microdermabrasion. Lymphatic Drainage, Colon Hydrotherapy, Cleansing and Detoxification Programs are among some of the other many services Complete Health offers.
Their Acupuncture Pain Clinic provides fast pain relief with minimal treatment for even the most stubborn problems like frozen shoulder, carpal tunnel, golfer's knee or tennis elbow. They also offer Fire cupping and decompression treatment, needle-less acupuncture, and color puncture using color to aid in healing.
Forensic Healing involves a holistic healing approach to profiling patterns, collecting evidence about a condition, analyzing the evidence and reconstructing the whole story to determine the cause, belief, thought and behavior that has damaged the intelligence of DNA - the blueprint that exists in every living cell. Identifying the cause of damaged DNA allows specific healing vibrations to be targeted for reconnecting and realigning the DNA. Then by applying new and advanced holistic healing methods, including kinesiology will assist with empowerment, healing, and releasing the condition. This unraveling of one's life makes way for removing unwanted burdens, limitations or beliefs that have been hidden in tissue memory or woven into the complexities of life.
Their new annual spa membership includes every 1 hour service that the center offers, although some restrictions may apply. To sign up for an annual membership and to learn more about Complete Health, visit http://www.completehealthinstitute.com or call for details (818) 707-3126.
About Complete Health
Complete Health is an Integrative Complete Health and Wellness Center which specializes in Forensic and Holistic Healing, Wellness Counseling, Acupuncture, Pain Management, Nutrition, Detoxification & Weight Loss Programs as wells as wide variety of Wellness, Anti-Aging and Beauty Building Complete Health Programs. Wellness Counselor, Dr. Teresa Rispoli, Ph. D. in Nutrition brings 25 years of clinical experience and research in the latest breakthroughs in Forensic and holistic healing, beauty and pain management.
About NALA™
The NALA (National Association of Local Advertisers), a small business association, is for local business owners offering new online advertising & marketing tools, great business benefits, education and money-saving programs, as well as a charity program.
Contact: Complete Health
Dr. Teresa Rispoli, PhD.
28247 Agoura Rd.
Agoura Hills, CA 91301
(818) 707-3126 or (800) 956-7083
Dr. Rispoli Facebook
Dr. Rispoli Twitter