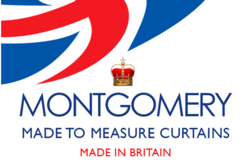 Montgomery Tomlinson, the UK's leading soft furnishings brand, have launched some spectacular offers to celebrate the Jubilee
(PRWEB) May 31, 2012
Montgomery Tomlinson, the UK's leading soft furnishings brand, have launched some spectacular offers to celebrate the Jubilee and all things British with 25% off all Made to Measure Curtains and an extra 10% off any purchase by simply entering their special Jubilee code at the checkout.
It is an unmissable offer for any homeowner who is looking to give a room in their home a quick makeover while saving money and celebrating all things British by buying from a company with a strong British heritage.
The soft furnishing company is a family run business which was established over 50 years ago by Managing Director Graham Tomlinson.
Mr Tomlinson built the company up from scratch and both the company and the product range has experienced a great deal of success and growth since its formation. It now has a skilled workforce of over 200 people based in Chester, North West England.
The quality and range of products has meant that Montgomery has evolved into an iconic British soft furnishing brand. Their quality products have proved themselves time and time again and the company now has over 160 retail concession departments in well known department stores throughout the UK such as House of Fraser and Debenhams. The company also have over 1,000 smaller outlets throughout the UK as well.
As well as the huge savings on Made to Measure Curtains for the Jubilee celebrations Montgomery Tomlinson also have a range of "Hot Offers" available which includes 50% off the entire Ready Made Pom Pom range, including all accessories.
Montgomery Tomlinson always have fantastic "Hot Offers" on their website so all homeowners are being advised that if they don't take advantage of the Jubilee celebration offers make sure to continue to visit the site for more impressive offers.