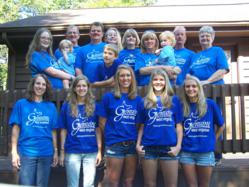 Reunions are the perfect occasion to highlight all that makes the Mountain State great!
CHARLESTON, W.Va. (PRWEB) May 31, 2012
The West Virginia Department of Commerce is again offering reunion kits for people coming home to the Mountain State in 2012. Perfect for reunion planners, the kits welcome people to West Virginia by providing postcards, state highway maps, travel guides and Genuine West Virginia goodie bags.
"Summer reunions present West Virginians with an exceptional opportunity to catch up with friends, family and colleagues," said Gov. Earl Ray Tomblin. "They reveal how passionately West Virginians embrace our rich heritage and diverse culture. Reunions are the perfect occasion to highlight all that makes the Mountain State great! Whether it's our natural beauty, safe communities, diversified economy or low cost of living, visitors will find West Virginia is a great place to visit and the perfect place to call home."
In 2011, Commerce sponsored almost 800 reunions and provided more than 64,000 kits. This year, the kits will include a Genuine West Virginia T-shirt and three Come Home to West Virginia hats to offer as reunion door prizes.
A starter reunion kit, which is free, also contains:
25 plastic convention bags with the Genuine West Virginia logo
25 Regional business guides
25 WV highway maps
25 state park bookmarks
25 special editions of Wonderful WV magazine 50 assorted scenic postcards of WV
15 state park brochures
15 business climate pieces
15 state travel guides
Regional tourism information will be added to the kits when they are picked up at the local participating Convention and Visitors' Bureau welcome center. Participating CVBs include Cabell Huntington, New River Gorge, Grant County, Greater Clarksburg, Greater Morgantown, Greenbrier County, Lewis County, Marion County, Martinsburg-Berkeley County, Mason County, Parkersburg, Putnam County, Randolph County, Summersville, Top of West Virginia, Tucker County, Upshur County, Wheeling/Ohio County and Southern West Virginia.
Additional kits, T-shirts and hats can also be ordered online and picked up at the center. Event coordinators may request reunion kits online or by calling 304-957-9332 or 304-957-9363.
A completed official application form may be submitted online or downloaded and mailed to Department of Commerce, 2012 Reunions, 90 MacCorkle Ave. SW, South Charleston, WV 25303.
The promotion period runs from Memorial Day until Labor Day, or while supplies last. First come, first served. Only school, family or community reunions are eligible, and the reunion must take place in West Virginia.