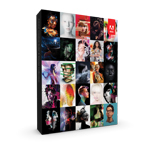 Students, faculty and staff are eligible to receive up to 80% off Adobe® Creative Suite® 6 software titles.
Ottawa, Ontario (PRWEB) May 31, 2012
OnTheHub is excited to announce that Adobe® Creative Suite® 6 software is available via the OnTheHub Network. Students, faculty and staff members are eligible to purchase CS6 software titles for up to 80% off retail price.
Adobe's new Creative Suite product line frees users to work and create with more speed and efficiency than ever before. With a wide variety of powerful creative tools, supported by the new Adobe Mercury Graphics Engine, Creative Suite 6 is not just comprehensive, it's fluid and responsive - both in 2D and 3D.
OnTheHub offers many Adobe Creative Suite offerings under Student and Teacher Licensing program to provide the academic community with tools they need. Some of these offerings include:
Adobe Creative Suite 6 Master Collection: the ultimate design environment for expressing your creative vision. Use industry-leading tools to deliver for print, web, and video—from mobile displays to the silver screen. With exceptional power and precision, you can create inspiring experiences that go anywhere.
Adobe Photoshop® CS6 Extended: Delivers more imaging magic, new creative options, and the Adobe Mercury Graphics Engine for blazingly fast performance. Students and educators can retouch with greater precision, and intuitively create 3D graphics, 2D designs, and movies using new and reimagined tools and workflows.
Adobe® Creative Suite 6 Design & Web Premium: The ultimate toolkit for professional design and web development. Deliver eye-catching digital images and craft graphics that remain crisp when scaled. Lay out high-impact print pages with exquisite typography, build HTML5/CSS3 websites, and design for tablets and smartphones.
Adobe's premium collection of graphic design, video editing and web development applications are the key to unlocking your creativity and turning imagination into reality. Let the tools you use empower you, not limit you.
Visit OnTheHub and learn how you can get up to 80% off Adobe Creative Suite 6.
About Us
The OnTheHub Network is a collection of WebStores brought to you by e-academy Inc, in partnership with your school or academic institution, software publishers and educational resellers. When your school is part of the OnTheHub Network, you get access to exclusive discounts and deals on academic software. The Network consists of one global eStore, which students, faculty and staff worldwide can access, as well as over 24,000 school-branded WebStores that carry school-specific deals and academic pricing on software.
Adobe, the Adobe logo, Creative Suite, and Photoshop are either registered trademarks or trademarks of Adobe Systems Incorporated in the United States and/or other countries.