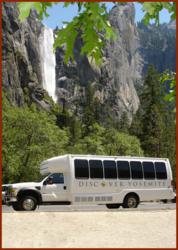 We have custom-made tours and online reservations because of all of the services we offer. They can schedule the pickup at their hotel, their lunch choice and other options
Oakhurst, CA (PRWEB) May 31, 2012
Discover Yosemite, the popular tour company that offers guided excursions in to Yosemite National Park has begun accepting online bookings.
Dee Ann Smith, owner of Discover Yosemite said the company booked nearly 9,000 tours in 2011, and expects to exceed 10,000 this year. One of the reasons for that jump, they've started taking reservations through their website, http://www.DiscoverYosemite.com.
"We wanted to make it easier for our customers to plan their trip ahead of time," said Smith.
"We have custom-made tours and online reservations because of all of the services we offer. They can schedule the pickup at their hotel, their lunch choice and other options," she said.
By taking a tour, guests learn much more about the park while also seeing more of the park.
"Going on one of our tours lets you avoid dealing with traffic, and ensures everyone gets to see all the beauty of Yosemite, instead of one person paying attention to the road while everyone else enjoys the scenery. Plus, you learn so much from the guides, you really come away with a deeper experience with Yosemite," said Smith.
In addition to offering both half and full-day tours, Discover Yosemite also embarks on Sunset Tours to Glacier Point offering a chance to see the sun set over Yosemite Valley, Full Moon Tours to Sentinel Dome, as well as private hiking tours custom tailored to the desires and abilities of the customer.
"We can work out packages for anyone; the sky is the limit," Smith said.
Tours start at $78 per person for adults, or $39 for kids 16 and younger while Seniors start at $72.
To book, or for more information, visit http://www.DiscoverYosemite.com
Jarrod Lyman
Director of Media
Yosemite Sierra Visitors Bureau
(559) 683-4636