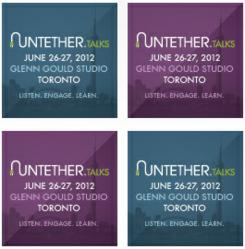 "The quality of the speakers and diversity of the topics at UNTETHER.talks shows just how far mobile is reaching into our lives."
Toronto, Ontario (PRWEB) May 31, 2012
Mobile is not an industry. It is a disruptive revolution that will affect every industry, nation, and economy. The institutional flux of a world gone mobile has created as many questions about the future as it has opportunities. UNTETHER.talks is a two day mobile summit, taking place at the Glenn Gould Studio in Toronto, ON, from June 26-27, which seeks to answer these questions and apprehend the opportunities.
"The premise for UNTETHER.talks was simple," says UNTETHER.tv co-founder Rob Woodbridge. "There is considerable confusion around mobile right now and no venue for conversation about where to start and where we are going. UNTETHER.talks is that venue and we are proud to host the first event in Canada."
UNTETHER.tv co-founder Douglas Soltys agrees. "Our plan was to place the smartest people we could find in one room and tell them to point to the horizon, then hold their feet to the fire until they explain how we get there."
Over two days, attendees will be exposed to a broad view of the sweeping business, consumer, and personal changes brought on by mobile, including the way we shop, the way we pay, and the way we learn. UNTETHER.talks is intended for anyone interested in understanding how mobile will change our lives and livelihoods.
"The mobile space is where many of our clients are doing business and more likely will soon. The mobile and wireless worlds are ones where entrepreneurs, investment and innovation are colliding - making it a very exciting time to be part of them," says Grant Jameson, senior partner and managing partner of Norton Rose Canada's Ottawa office. The firm is a founding sponsor of UNTETHER.talks. "We chose to partner with UNTETHER.tv to create this event because no one has a pulse on the mobile revolution like Rob and Douglas."
The UNTETHER.talks format features forward thinking keynote presentations paired with panel or one-on-one Q&A sessions designed to address the immediate ramifications of each presentation. Keynote speakers and panelists include:
Doug Stephens - Founder, Retail Prophet Consulting
Scott Kveton - CEO, Urban Airship
Tom Hearne - CFO, Score Media
whurley - General Manager, Chaotic Moon Labs
Damien Patton - CEO, Banjo
Kelly McDonald - Manager, Deloitte
"The quality of the speakers and diversity of the topics at UNTETHER.talks shows just how far mobile is reaching into our lives," says Amber MacArthur, best selling author, media host, and technology expert. "It is becoming more important for all of us to understand what is happening here in order to make better decisions for ourselves and our businesses - the unique format of the show makes that much easier to do." Amber Mac will kick off UNTETHER.talks with a keynote discussing mobile's impact on personal branding.
About UNTETHER.tv
UNTETHER.tv is a leading media publication dedicated to understanding the impact of mobile on our lives and livelihoods. Our passion is to shed light on the great successes, failures, and gambits of the next generation of entrepreneurs; our methods are deep insight and informed debate.
UNTETHER.tv produces weekly web-based television shows, and daily print commentary from a stable of mobile experts. UNTETHER.talks is our first mobile event.
To view our work, please visit http://www.untether.tv
You can also Like UNTETHER.tv on facebook.com/untether or follow UNTETHER.tv on Twitter @UNTETHER.
About Norton Rose Canada LLP
 
Norton Rose Canada LLP is a member of Norton Rose Group, a leading international legal practice offering a full business law service to many of the world's pre-eminent financial institutions and corporations from offices in Europe, Asia, Australia, Canada, Africa, the Middle East, Latin America and Central Asia.
 
The Group's lawyers share industry knowledge and sector expertise across borders to support clients anywhere in the world. The Group is strong in financial institutions; energy; infrastructure, mining and commodities; transport; technology and innovation; and pharmaceuticals and life sciences.
 
Norton Rose Group has more than 2900 lawyers operating from 43 offices in Abu Dhabi, Almaty, Amsterdam, Athens, Bahrain, Bangkok, Beijing, Bogotá, Brisbane, Brussels, Calgary, Canberra, Cape Town, Caracas, Casablanca, Dubai, Durban, Frankfurt, Hamburg, Hong Kong, Johannesburg, London, Melbourne, Milan, Montréal, Moscow, Munich, Ottawa, Paris, Perth, Piraeus, Prague, Québec, Rome, Shanghai, Singapore, Sydney, Tokyo, Toronto and Warsaw; including associate offices in Dar es Salaam, Ho Chi Minh City and Jakarta.
 
Norton Rose Group comprises Norton Rose LLP, Norton Rose Australia, Norton Rose Canada LLP, Norton Rose South Africa (incorporated as Deneys Reitz Inc.), and their respective affiliates.