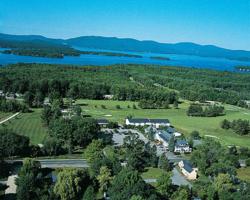 "Unlike many of today's large corporate timeshares, we are approximately fifteen hundred individuals and families just like you. We share a vested interest in ensuring the Windrifter Resort's efficiency, quality, and longevity. We work hard to remain true
Wolfeboro, New Hampshire (PRWEB) May 31, 2012
The Windrifter Resort located in Wolfeboro, NH -The Oldest Summer Resort in America - will conduct their open house tours throughout the month of June. Tour Their Main Campus adjoining Kingswood Golf Course and Their Yacht Club Campus on Lake Winnipesaukee and enter the grand prize drawing of a three day two-night stay at the resort. If you are unable to visit in person, you can take a virtual tour.
All are welcome to tour the members-owned resort's two locations, both providing spectacular views with many on site amenities. The Main Campus is located adjacent to Kingswood Golf Course. The tour will consist of the rustic 18th-century New England inn and surrounding quest houses, newly renovated indoor heated pool, fitness center, sauna, tennis courts, patio, playground & game room. The Yacht Club campus located on Lake Winnipesaukee is just steps from Downtown Wolfeboro. Tour the guest rooms, private swimming area, private boat docks, and outdoor patio and cooking area. Members and guests staying at The Windrifter Resort are permitted to enjoy both campus facilities.
The Windrifter Resort prides itself in being a flexible time-share where members have choices.
Members may vacation in Wolfeboro year after year or exchange their Windrifter vacation to stay at one of over 4,500 other resorts worldwide through the RCI system. Members also may split up their vacation throughout the year or rent the whole timeshare out. Local members have access to the indoor pool, fitness center and other resort amenities year round.
"Unlike many of today's large corporate timeshares, we are approximately fifteen hundred individuals and families just like you. We share a vested interest in ensuring the Windrifter Resort's efficiency, quality, and longevity. We work hard to remain true to our founders' original promise of an affordable vacation."
Tours will be on Wednesdays from 10 a.m. to 4 p.m. and by appointments. Evening appointments are welcome. A Virtual Tour will also be available. Guests Touring the Resort throughout the month of June are eligible to enter the grand prize drawing of a three day, two-night stay at the resort. Visit their website for details at http://www.windrifterresort.com
The Windrifter Resort, 337 South Main St. Wolfeboro, NH 03894
603-569-1323 http://www.windrifterresort.com
About The Windrifter Resort:
The Windrifter Resort is a four season vacation destination in the heart of New Hampshire's Lakes Region located in Wolfeboro - The Oldest Summer Resort in America.
Their Mission is to enrich the lives of members and guests by providing economical vacation-ownership opportunities in a family-friendly environment for vacation and relaxation.